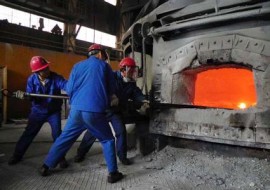 The Ministry of industry and information technology announced Tuesday the second batch 49 (a total of 51 projects) comply with the "list of aluminum industry standard" conditions of enterprises, of which the Aluminum Corporation of China (601600.SH), Shenhuo shares (000933.SZ), Yunlvgufen (000807.SZ), Yi ball resources (601388.SH) and other enterprises on the list. The two batch announcement to standardize enterprise total electrolytic aluminum project 63, production capacity of 29540000 tons, accounting for 85% of total production capacity of the existing. (in line with the "list of aluminum industry standard" conditions of enterprises (the second batch).
The Ministry issued a formal "aluminum industry standard conditions" in July 18, 2013, from product quality, environmental protection, energy consumption, and comprehensive utilization technology and equipment, layout and external conditions, safety and health and social responsibility, and puts forward the standard of existing businesses and new projects.
The Ministry said Tuesday the Department of raw material industry, aluminum industry standard management effect has been initially apparent. One is to find out the actual situation of electrolytic aluminum production capacity. Standard management so that for many years hidden part of electrolytic aluminum production capacity reports surfaced out of industry resources, eliminating the blind area of industry management, to defuse the electrolytic aluminum production capacity surplus work presents data to support, and for the management of the industry policy has laid a foundation conditions.
The two is to promote the specification aluminum business. Put forward the basic requirements of aluminum enterprises standardization and development conditions, is advantageous for the enterprise to find its gap, through technical transformation and other means to make up as soon as possible to solve, but also promote the low level of technology, lack of competitiveness of small electrolytic tank capacity exit.
The three is the formation of the policy linkage between departments. In the support and cooperate with relevant departments, the aluminum industry standard Enterprise Bulletin list got hair change, securities, finance, environmental protection departments of identity, the formation of the policy linkage, but also for not cleaning the approval of projects provides a basis for rectification.
Standardization management is a basic work of aluminum industry management, is the behavior of enterprises voluntarily. At present, the vast majority of electrolytic aluminum production capacity has entered the announcements, but has entered the announcements do not represent the enterprise forever norms, the Ministry said the dynamic management of the announcements, there can not keep the standard conditions of enterprises will be announced disqualified to gradually establish a long-term mechanism of standardizing the management of aluminum industry.
Related posts