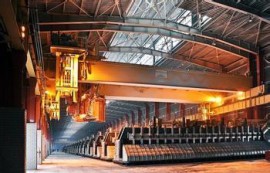 Aluminum giant Alcoa (Alcoa (AA) N) said last week, has its 500000 tons of production capacity in May shut down or sold evaluation list.
Since 2007, Alcoa has shut down or sold 1.7 million tons of production capacity, but it seems, still need to cut more capacity.
To some extent, this is Alcoa readjust business pattern, from the pure aluminum producers to professional material supplier.
Alcoa has just announced a $1.3 billion takeover of RTI International, Metals, and this is Alcoa's strike again in the field of titanium.
Alcoa while business diversification, aluminium production business is in transition. Alcoa's model is by shutting down the high cost of smelter, and in Saudi Arabia's new low cost Ma 'Aden factory to replace the reducing capacity, to achieve the effect of cost curve down. This latest action capacity evaluation, is part of the model.
But Alcoa continued to focus on efforts to reduce costs, and release of Alcoa's views about the future price of bearish signals; Aluminium producers recently with confidence, thinks the market oversupply situation to supply shortage for many years, has finally come to an end Alcoa's conflict with this attitude.
Alcoa pessimistic is there for a reason.
The London metal exchange (LME) three-month aluminum prices are down from last year in the third quarter of more than $2100 a tonne, down to less than $1800.
More worrisome is that the original physical premium seems to rise forever, not only has stopped rising, has entered the acceleration turned down.
Metal financing transactions may occur disorder the threat of liquidation, again aluminum market.
Related posts