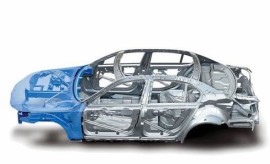 Alcoa announced Tennessee plant expansion project is completed, the factory mainly for the automotive industry to provide aluminum plate. Current customers have the ford motor company, fiat, Chrysler and general motors.
Alcoa chairman and CEOKlausKleinfeld, said auto makers need to be lighter, more solid material to improve the vehicle performance, and Alcoa will grasp the business opportunities in the first time. Tennessee and davenport two factory capacity to expand the breakthrough in the technology company's prompt Alcoa automobile manufacturers in the aluminum industry become the preferred partner.
Orders by customers long-term support, Tennessee $300 million expansion project is Alcoa in North America's second largest automobile industry expansion project. In the second quarter of 2015 Davenport and Iowa automobile aluminum shipments hit a record high, up 200% year-on-year.
, according to the data provided by the consulting firm DuckerWorldwide north American car body aluminum content will triple to 2015, by 2025 will turn 11 times. Alcoa car aluminum revenue is expected to increase by $2013 in 229 million to 2013, to $13 billion.
Related posts