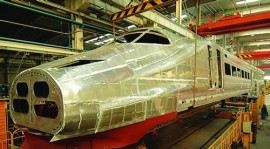 The department of energy (doe) has agreed to give Alcoa's $259 million loan, this will be the first time since 2011 the agency ATVM project of automobile enterprise loans.
The U.S. department of energy (doe) Advanced Technology Vehicles manufacturing (Advanced Technology Vehicles Manufa cturing, ATVM) loan program was set up as early as in 2008, a total of $25 billion, to support the development of new energy Vehicles. Late due to large controversy, after 2011, the agency not for loans to support enterprises.
In order to realize auto lightweight, improve fuel economy, aluminum materials in car is becoming more and more extensive application, which led to the market demand for automotive aluminum. In September 2013, Alcoa began its expansion has been more Tennessee factory, it was used in the production of aluminum cans capacity to used in the production of high strength automotive aluminum plate.
Alcoa in expansion has invested $275 million, so the energy provided by a $259 million loan has to bear almost all the money. The doe and Alcoa said, to the middle of the year after the completion of the expansion, the factory will add 200 jobs.
Related posts