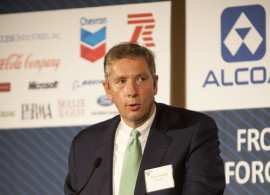 Beijing standard time on October 9, the morning news, Alcoa announced late on Wednesday, the latest results showed that benefit from higher prices as well as to the aluminum metal outside strategic transformation, the company has better than market expectations in the third quarter profit growth.
Alcoa announced on Wednesday after, according to the results in the third quarter net profit of $149 million, equivalent to 12 cents per share, far better than the same period of last year to $24 million, or 2 cents per share net profit performance. Sales of the quarter from $5.8 billion to $6.2 billion.
Alcoa's shares rose 12 cents on Wednesday, to close at $16.07 a share, up is 0.75%; Stocks in after-hours trading after the earnings release again up 36 cents, to $16.45 a share, gain is 2.36%. Alcoa's shares by 50% since 2014, more than the performance of the market, also higher than that of aluminum.
From April 2011 to early 2011, aluminum prices have 40% decline; In August to the end of seven months by 27%, the peak returned to 18 months. Although prices after the trend of the weak, but since 2014 has lasted for a gain of about 8%.
In cost-cutting measures, Alcoa also implement the promotion of value-added processing product output, to expand product line to nickel, titanium and the strategy of lithium and other light metals. These actions managed to offset the prices depressed state for a long time.
Alcoa is traditionally in the s&p 500 company earnings release at the earliest, therefore be seen as a U.S. stock market the unofficial start of earnings season. In addition, the company to provide multiple main industry of raw materials, has been as a broader American economy a good agent. But there are also its performance compared to the market and the overall economy will have significant deviation problem.
Results point out that beyond a certain project, the influence of the third quarter net profit was $370 million, or 31 cents per share, before the market survey, analysts on average expect Alcoa inc in September by the end of a quarter will be 22.7 cents per share in the net profit, revenue forecast is $5.85 billion.
Alcoa chief executive Klaus kline fuld (KlausKleinfeld) said in a statement, "a strong quarter is our attention to the direct result of portfolio transformation, we just take the right steps."
Alcoa also improved on Wednesday to the output of 2014 north American commercial transportation market growth expectations, this is important for a company terminal market. This is the second time the company since 2014 to improve the evaluation of new growth range is from 16% to 20%, higher than the second quarter of 10% to 14%.
Related posts