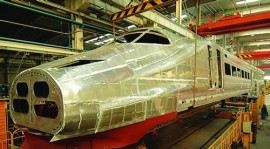 Provided by the southwest aluminum alloy material produces aluminum section 13000 of the coal train wagons, nearly time to successively into the daqin railway and the railway lines for shenhua, running in good condition. Compared with stainless steel wagon, all aluminum coal per car to reduce weight about 700 kg.
As the "vehicle lightweighting" as development direction of rail transit, bulk cargo transportation of carrying the train to reduce weight, reduce emissions, by the state department of transportation on the agenda. And the widely used in car body manufacturing compared to steel materials, aluminum alloy has the advantage of light quality, molding, high strength, corrosion resistance and other properties, become the best choice for heavy-duty train to reduce weight, reduce energy consumption.
Now many European and American countries adopt aluminum alloy material to make railway vehicle, such as the United States at present, more than 95% of the new manufacturing high-speed heavy-duty train wagons are aluminum alloy.
In recent years, through set up a special team for heavy-duty train with project research on aluminum alloy material, southwest aluminum successfully developed "aluminum sheets used in high-speed heavy-duty train application technology", so that the aluminum alloy materials applied in the railway locomotive, vehicle and parts.
It is reported, developed by southwest aluminum alloy pre-stretching board and other products, also will be widely used in aerospace aircraft, automotive aluminum, etc.
Related posts