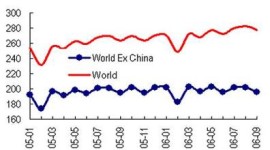 China's national bureau of statistics data released on Thursday showed that China's output of aluminum products in the first two months of the year rose nearly 21%, to 6.9 million tons. Customs data show that at the same time aluminum exports jumped 80%, to 860000 tons.
This year, according to Goldman sachs, global output will outpace demand of 460000 tons, the highest for three years, for the shortage of supply last year. The us banking group said in a report on March 4, excess supply suggests that prices will fall further, could reach 6.4% falls in the coming weeks.
The first two months of this year, according to data alumina, copper and zinc production also growth. Refined copper production jumped almost 16% to 1.2 million tons. China's copper output reached 7.96 million tons last year.
Related posts