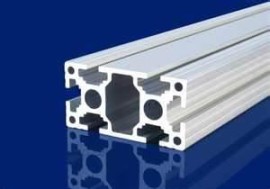 Aluminum extrusion knows, profile in the case of bending scrap is very not worth, also should not happen, but also can avoid! So, how to reduce or avoid scrapped due to bending!
Extrusion straightening: straightening is profile bending caused by serious link, straightening, used in the work must pay attention to the straightening force could be on the profile deformation, convergent, orange peel, etc., the power is too small will generate profile adjustment is not straight, bend.
Extrusion to frame: this link is also very important, after saw the specified length, aluminum frame, be the fashion frame work will pay attention to: the wait is aniseed or small material, is a tube or flat die out material? Wait in general, aniseed and tube material carry on both ends of the frame is not easy to bend, but small and flat die out of material, carry on both ends of it is easy to cause bending, then it should be from both ends to the middle for carrying frame. But some profiles even if it doesn't work, for example: shutter, window, gland, etc., have to put this kind of material has limitation on the profile of then carried to the box.
Surface treatment on: blank by aging, hardness is done, profile is not so easy to buckle, but stores or to pay attention, when both ends up and try to avoid strong fluctuations up and down, strong volatility will cause certain bending to has limitation of aluminium profile.
Aluminum is mainly USES the chemical preparation of alumina bauxite production process, the method has three kinds of alkaline, acid method and electric heating method. Acid method and electric heating method used is less in the industry, and soda is the main method of production of alumina. Can be divided into the bayer process, sintering process and alkaline or joint method.
Bayer process of alumina production process by the original boiled pulp slurry preparation and high pressure leaching, pressure dilution and varieties of red mud separation and washing, decomposition, classification of alumina and washing, aluminum hydroxide roasting, mother liquor evaporation and soda causticizing and other production processes. Bayer method is only suitable for processing low silicon high quality bauxite, dealing with high silica bauxite is not economic, because the ore of SiO2 all shift at the dissolution of hydrous aluminum silicate and therefore need to consume a large amount of NaOH. Dealing with high silica bauxite effective ways is alkali – lime sintering process.
Alkali – lime calcining alumina process including slurry preparation, clinker sintering, clinker leaching and red mud separation and washing, thick liquid desiliconizing, semen carbonate decomposition, aluminum hydroxide separation and washing, aluminum hydroxide roasting, mother liquor evaporation process, etc.
Alkali – lime sintering method is suitable for processing high silica bauxite, especially our country hard LvShiXing monohydrate, aluminum silicon ore than less than 4. Used for calcining more advantageous. With certain factory dealing with not high grade bauxite of bayer process, sintering process of the alkali consumption is low, alumina total recovery rate is high, its disadvantage is that production process is complex, high equipment investment, high consumption, poor product quality.
Joint method is based on the advantages and disadvantages of bayer process and sintering process on the complement each other and developed a kind of method. Joint method of parallel, series and mixed 3 kinds.
Aluminum when processing of bauxite is medium grade, the ore leaching by bayer method, leaching of red mud again after further extraction of alumina with sintering and oxidation, namely series combination method, can obtain good economic effect. Can make the biggest investment in sintering process of sintering, leaching, desilication process equipment has smaller size. And the alkali and alumina in the bayer process red mud and full recovery. If in bayer process red mud was added in the preparation of raw part of low grade bauxite, to increase the clinker al-si to facilitate sintering kiln operation scope, not only improved the technical operation of the kiln and make parts need alkali sintering process section provides of bayer process, the aluminum and can obtain good economic effect. This is both the characteristics of series and parallel combination method, called hybrid joint method.
Related posts