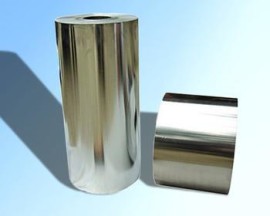 Aluminum foil material can be divided into industrial aluminum foil and aluminum foil packing. Industrial aluminum foil chemical composition is pure, the thickness of 0.005 ~ 0.2 mm, mainly used for electrical industry and the capacitor of the electronic industry, insulation, moisture proof materials. General packaging aluminum foil thickness of 0.007 ~ 0.007 mm, have flat printed foil, foil, color printing foil and pasting aluminum foil and other products, mainly used as food, tea, cigarettes and other packaging materials
With the metal in the aluminum foil is a kind of aluminum rolling into thin slices of hot stamping material directly, the hot stamping effect is similar to the effect of silver foil stamping, so also known as fake silver foil.
Waste of aluminum foil to the preparation of polymeric aluminium chloride. Create the polyaluminium chloride is a kind of inorganic polymer flocculant. Because of polyaluminium chloride with any number of hydroxyl groups in molecules, when the source of turbid water, the polyaluminium chloride join in the source water pH conditions continue to hydrolysis, accompanied by condensation, adsorption, sedimentation and a series of physical and chemical processes, so as to achieve the purpose of purifying water. The application of aluminum foil, just suit now along with the rapid development of industrial and urban rapid population growth, water pollution is increasingly serious social status. Because of the need to purify sewage is increasing, so the water purifier is the polyaluminium chloride by aluminum foil and demand is also increasing.
Related posts