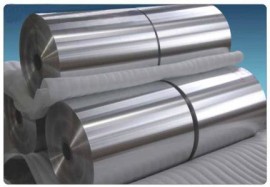 European Association for the aluminum Foil the European Aluminium Foil Association (EAFA) according to the first nine months of 2014 aluminum Foil demand weakness in European market. But this is offset by continued strong recovery in exports, total sales of 643000 tons, up 1.5% compared with 633000 tons of the same period last year.
Data showed thicker specifications of aluminum foil with potential trend of recovery, this kind of aluminum foil is typically used in semi-rigid containers and technology application, year-to-date volume has increased by 6%. And thin specifications are normally used in flexible packaging products and household foil, fell by 0.4%.
In the third quarter of this year to 209000 tons, delivery almost flat with the same period last year, 210000 tons. The increase in exports made the data increased by 15%, while European demand fell by 2% in real terms.
EAFA executive director Stefan Glimm said, hope in the coming months this year to maintain steady development, so the overall situation is slightly surplus this year. Despite the export increase, but outside Europe market competition increased, so want to maintain this level of growth may be a little difficult.
He added, because the customer need to digest inventory, for aluminum foil manufacturer in the fourth quarter is the most challenging quarter.
Related posts