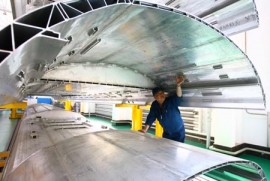 The European aluminium association according to the latest figures increase stimulate demand for traffic applications of aluminum products, aluminum industry has a good future in the European market.
In the coming decades Europe will double end aluminum products use demand, the current annual demand for 12 million tons to 2050 will increase to 20 million tons. More than growth mainly comes from transportation, in the 1990 s from the demand of this field has more than tripled. Currently the market in Europe by 3.8 million tons a year, in 2050 will increase to 7 million tons, and the per capita consumption will also increase nearly 64% of European citizens to 36 kg.
Spokesman said at a conference in Germany aluminum exhibition in October, the latest data shows a long-term sustainable development of aluminum industry in Europe market. The customers are looking for high quality, innovative products to meet changing needs, at the same time reduce the pollution to the environment. Aluminum in transportation, construction and packaging industry's success is just a beginning.
Transportation and packaging industry promoted the flat and rolled aluminium product demand, in 2014 and 2015 is expected to increase 3.1% and 3.3% respectively. The construction industry demand for extrusion product also rose slightly.
Data also suggest that Europe has became the biggest winner, aluminum recycling industry average production per person per year 11 kg recycling aluminum, and other countries around the world to produce 4 kg per person per year.
Related posts