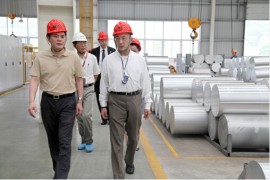 On April 8th, Alcoa (Alcoa) chief financial officer, William Oplinger released on Wednesday said after the first quarter, 2015 global excess supply aluminium market is expected to 326000 tons. This in January with the company is expected to supply 38000 tons, the main reason lies in the production of top producer, China is expected to increase.
Oplinger said in the conference call, Chinese refineries continue to expand capacity, because the price has rebounded. Oplinger pointed out that aluminum demand remains strong, global inventories continue to fall, the current can support 66 days of consumption, only slightly higher than the average level in 30 years of 61 days.
Oplinger believes that strong demand will restrict regional premium. In recent years, financing deals left the aluminum in stock, promote regional premium rose to a record high, even as the London metal exchange (LME) aluminum futures prices fell.
After cause regulatory and political scrutiny, the deals to begin dismantling, premium also began to fall, but Oplinger pointed out that the premium is still in a record, and will be supported by the strong demand.
Oplinger, according to the industrial operation require metal, so the inventory after the metal flow, as the demand rises, the will be digested.
In addition, Chinese exports of semi-finished aluminium dropped the exporter may support litres of water. Chinese exporters of aluminium exports in order to avoid tariffs, exports of semi-finished aluminium, the end user will again into its smelting aluminium.
Exporters want to take the opportunity of high regional difference arbitrage, so these exports flood the market, led to oversupply.
Alcoa CEO klein anfield, according to this, in turn, to spread downward pressure, thus reduce the enthusiasm of the Chinese exporters exports of semi-finished aluminium. Klein field added that this export tax evasion situation will make the Chinese government was "angry", so it is possible that the Chinese government to take action to limit exports, and optimistic that they will put an end to this mess.
Related posts