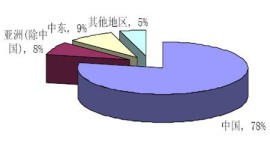 Recently, the author from the branch of China aluminum industry in guangxi department learned that as the aluminium market recovery, the company further enhance profitability, the company in November than September earnings compared to a gain of close to 30 million yuan.
To complete the goal set at the beginning of the task, play in the fourth quarter sprint to battle, to achieve domestic alumina industry "for the first" aim to lay the good foundation, the company employees closely around the "strengthening foundation, consumption JiangFei authors; thorough careful, implementation were bailed out nature; overall consideration, promote enterprise development; many measures simultaneously, to complete the full-year target" in the fourth quarter of the overall train of thought for efforts to sprint.
Mines in the first quarter, the company seize the climate suitable opportunity, overcome the backhoe, hinge card equipment technical conditions such as degradation to the negative influence of mining production and transportation, production of more than 680000 tons, after washing of record monthly production; Gripper for stable operation of alumina plant, focus on strengthening equipment control and check, strengthen the special field management and team construction of safety production standardization management center of gravity down, stripping unit operation rate increased by 1.58% month-on-month and alumina unit production costs fell by 14.42 yuan/ton, monthly profit from an increase of 11.9 million yuan, to further strengthen the confidence of employees to complete the annual profit target.
In November the sprint, the staff of the company based on this position, the procedure to provide the basis of next working procedure and create conditions and ore mines to supply cost benefit, through the optimization of mining to wash ore each link, bauxite cost dropped to 5.37 yuan/ton. Thermal power plant using the whole process management concept, management forward, strengthen supervision and management and the improvement of the quality of incoming coal pulverized coal usage, steam cost 0.92 yuan/ton. Alumina plant and other project members units in accordance with the company cut down comprehensive energy consumption of alumina, put forward the lean management and technical requirements for improving the combination, cold water pump evaporation on 5 November 1 and 3 of evaporation cooling water pump, 1 respectively to the high efficiency and energy saving pump and the permanent magnet frequency conversion technology, that's two energy-saving technologies putting-in-service proactively directly make alumina electricity consumption per ton fell 1.3 KWH. Authority department office and auxiliary units in improving service quality, enhance basic management, innovative work ideas, insisted on the raw material procurement, on the basis of quality, communicate actively coordinate with production units, has been optimized in the lime used, level of lime directly with the ore use, the secondary lime to remove impurities and then into the process, to further improve the efficiency of the raw materials used, to maximize the benefit of production, in November the company procurement authors dropped more than $16 million.
Related posts