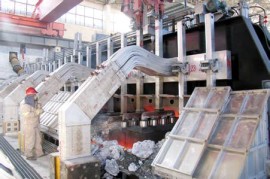 On July 29, Century Aluminum, it will immediately shut down the Ravenswood smelter located in West Virginia, because of poor market conditions make it difficult to guarantee the power supply.
Due to the price declines, aluminium producer profits shrinking, aluminum prices close to a six-year low. The aluminum premiums also halved this year.
Has been idle Ravenswood smelters from February 2009.
Century said in a statement released late on Monday, "permanently closed Ravenswood refinery's decision was based on the inability to ensure that the plant to obtain competitive power supply contract, in addition, China's export aluminum quantity increase to promote aluminum market condition is more challenging."
"So restart smelters to the economic situation is not good," the company said. Century by Swiss commodities trading company Glencore (Glencore) holdings.
Earlier this month, according to a quarterly survey released by the production increase, and this year is more serious than expected slowdown in China's economic growth to make aluminum, excess supply.
Including Alcoa (Alcoa Inc) and Russian aluminium group (party), producers, recently that China's export expansion is the main reason of the aluminium prices.
In the first half of this year, China aluminum semi-manufactured goods exports surged 30%.
Related posts