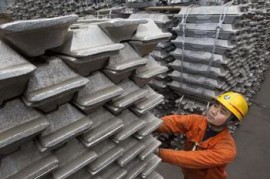 In December 2014, shanxi branch of aluminum production goods and chattels double hit a record high, real produces about 198128 tons of production completed, nissan 6391 tons; Calciner system through strengthening operation, actively organize production, commodity production 203834 tons.
Ore quality decides the stability of production. In December, constantly consolidate the production base, production operation department, mining company actively urge the ore into the factory quality, strengthen coordination of the firm and the work, all income grinding ore al-si ratio of 4.7, from 0.32 in November, for the production of stable operation and high yield innovation laid a solid foundation.
Units will continue to strengthen equipment maintenance and management, improve operational efficiency, arrange equipment maintenance and repair of also scheduled system maintenance, improve the ability of auxiliary system security, strengthening the management of equipment maintenance and process monitoring and timely eliminate hidden dangers, to eliminate the influence of auxiliary equipment for production. By trying to achieve the unscheduled stops to reduce, the main equipment in operation efficiency, higher operation rate of good grades; In December, the first high dissolution of alumina plant operation rate was 97.09%, the first smelter dioxide high-pressure stripping operation rate of 97.45%.
Oxide of alumina plant is the first, and the aluminum plant two main factory production, continuously strengthen coordinated, maximize the alumina production. In December, in the first dioxide under the condition of grinding materials aluminum plant overhaul, a week, the first overcome the difficulties of alumina plant, actively organize according to the requirement to the oxide aluminum plant distribution original pulp, accumulative total of 13606 cubic meters. Actively organize for the shanxi xinfa chemical co., LTD., roasting aluminium hydroxide, the roasting system equipment in mining the potential at the same time, made new breakthroughs of commodity production of alumina.
At the same time of increase production, constantly strengthen the process management, production system optimization index, take measures to do solid production consumption. Around each system decomposition rate, capacity of the baking furnace, the original pulp solid content, slurry water dissolution ak, and other key indicators, take effective measures. Adjust clinker al-si than, match eat red mud recycling ore year-on-year increase of 1700 tons, with eat red mud recycling soda ash year-on-year increase of 650 tons, reduce the first alumina factories consume 0.02 t/t – AO, alkali consumption reduce 7 kg/t – AO. At the same time, increase the intensity of scarring return flow and eat with waste, at the same time of increase production, achieve the decrease of consumption.
Related posts