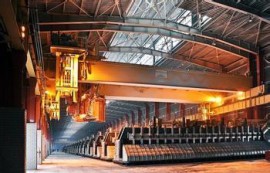 As the market is focused on China's aluminium exports will increase thus exacerbate global aluminum surplus situation, the biggest fall in prices at 2 months.
China plans from May 1 to use the original aluminum rods products to reduce export tax of 15%. According to foreign media, based on a big supply of Asia aluminum, a move that could make the price lower.
"China will ensure that can meet the needs of its aluminum industry sector." In London, the citigroup analyst David Wilson said, "this will keep the market surplus situation. As long as the export aluminum can also earn price difference, they will continue to keep exports, this is negative impact on prices."
5 PM London metal exchange center 50 delivery within three months of aluminum futures fell 1.6%, to $1777.50 / ton, was the biggest fall since February 10. Prices bottomed out in early trading to $1769 / ton, is the lowest since April 14.
In the world's largest industrial metals consumer China, measure the HSBC HoLdings Plc and Markit Economics of manufacturing the preliminary purchasing managers' index in April to its lowest for 12 months.
The London metal exchange center for delivery within three months of copper rose 0.5%, to $5940 / ton (us $2.69 / lb). Fell, lead, tin and zinc nickel increases.
The nyse in the u.s., July delivery of the copper futures rose 0.9%, to $2.702 / lb.
Related posts