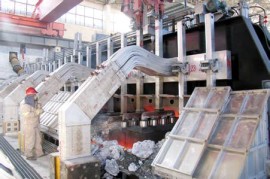 Due to China aluminium mills are still increasing in aluminium to international market oversupply further expansion, the international aluminium prices tumbled, making international aluminum industry foreground cloudy, the whole industry is suffering the worst crisis in years, especially the high cost of aluminum producers or forced to production, only in this way, the price will rebound.
Since September, the international prices have tumbled 24%, LME three-month aluminum fell to their lowest level in six years, and since the beginning of aluminum in the decline of the premium to three and a half years to the lowest level, which makes aluminum producers profitability is facing the biggest challenge since the 2008 financial crisis.
Wood Mackenzie, according to data released if including premium prices $1800 a tonne, outside China for more than 10% of the aluminum smelting capacity (approximately 3.5 million tonnes) is at a loss state, on Friday, three-month aluminum at $1621 a tonne, while the aluminum premiums for $175 a tonne.
The data also highlights the aluminum production industry of China's aluminium capacity to expand further and further increases in exports of anxiety.
INTL Ed, an analyst with fc stone Meir said, if you want to influence prices, producers choose only one: that is to cut about 100-2 million tons annual production capacity of aluminum.
"Quite a few of western aluminium producers have cut production, but the overall is still not enough, the number of GuoChanShang output far beyond that level."
Alcoa has been shut down in this year's aluminum production capacity is about 170000 tons, the Russian aluminium group also had said in April will be idle 200000 tons of aluminum production capacity.
Last month Canon can be controlled by the Aluminum (Century Aluminum) announced it will close 244000 tons/year Hawesville Aluminum plant, said China's Aluminum weak exports the market price.
Related posts