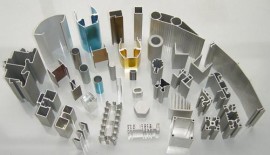 China's finance ministry said on Thursday that since May 1, for aluminum products such as export processing material investigation. Shanghai non-ferrous nets later said the tariff aluminum mainly aimed at the alloy aluminum bar, rod, and some kinds of aluminum alloy bars, bar.
Analysts said that China's exporters have recently through exports of aluminium disguised as a so-called semi-finished products to avoid export tariffs. If exports of semi-finished aluminium, Chinese manufacturers can enjoy 13% VAT tax refund. In the first quarter of this year, Chinese exports of semi-finished aluminium jumped by 49% year-on-year to 1 million tons.
Cancel the export tariffs still benefit producers, however, they can be the bother of aluminium product disguised as a semi-finished products and export directly. Anz DanielHynes commodities analyst said, exports from China have a lot of growth, the measure on the administrative provides convenience for exporters. Hynes said that since last year, has been shut down to Chinese smelters are working again, this shows that exports are likely to continue to rise, or at least remain at current levels.
Although domestic aluminum demand growth can't keep up with increased production, but China's electrolytic aluminium factory has been seeking to expand overseas sales. Electrolysis plant to improve production, on the one hand, this is because at the beginning of aluminium product prices, on the other hand is because of the four big province of electrolyzed aluminium industry gave electricity subsidies, the move has helped offset a large part of the cost of production.
Related posts