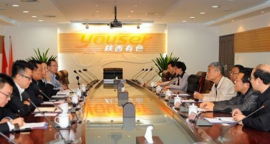 On October 15, assistant general manager of the chinalco, China's rare and rare earth co., LTD., President of hai-yan ding, vice President of wang hong a line to visit shaanxi nonferrous group company, communication understand non-ferrous industry development situation, with the possibility of group cooperation and development. Shaanxi nonferrous group chairman of the board of directors of the company Wei Junying xiao-ping huang, vice general manager in xi 'an headquarters talks with guests.
Aluminum corporation of China was founded in February 2001, now has aluminum plate, copper and rare and rare earth industry and other related business, mainly engaged in mineral resources exploitation and smelting non-ferrous metal processing, and related trade and engineering technical services, etc., is the world's second largest alumina, third largest aluminium supplier, copper comprehensive strength in the country first, for six consecutive years among the world top 500. Rare and rare earth company is a wholly owned subsidiary of chinalco, as well as its rare earth industry and integrated core platform for the development of rare metal industry, the company was founded in 2010.
Chinalco hai-yan ding introduced development present situation and long-term development plan, result expressed appreciation to the development of group company in recent years, think of shaanxi nonferrous yulin the developing mode of circular economy industrial park of coal aluminum integration worth learning. He said chinalco interested in copper, aluminum to two big industries, actively seeking with other industries, especially in shaanxi nonferrous metals industry to cooperate. Hai-yan ding said that chinalco and shaanxi nonferrous have reliable basis of cooperation, hope that through this visit, try to find the two sides in such aspects as equipment, capital, market marketing cooperation, use of their advantages and platforms, both to their respective interests, achieve mutual benefit and common development.
Xiao-ping huang yulin to guests introduced circular economy industrial park, copper vapor ChuanHang aluminum industrial park as well as the production and construction of the new county new material industrial park, and introduces in detail the development situation of molybdenum, titanium industry group company. Rare metal industry, he said, is the advantage industry group company, at present, both from the technical equipment and industry in the world, has already formed the upstream and downstream integration, a relatively complete industrial chain. Our development idea is, on the resources occupies the behavior to do with the market, and; The direction in the industry in the field of deep processing of molybdenum, titanium and high value-added products, military efforts to develop market field, both titanium products, and other civilian goods market, continuously improve the quality and efficiency of development.
In a relaxed and friendly atmosphere, the two sides to discuss the communication in the next few years in our country and the development trend of world nonferrous metals each related industry, common outlook on the development of aluminum industry development prospects and the future may face the problem. Xiao-ping huang last hope is bauxite in Indonesia to make substantive progress on the project cooperation.
After the talks, accompanied by Wei Junying chinalco guest to treasure titanium group.
Related posts