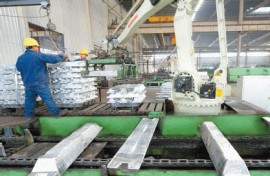 Chinalco December 25 news: chinalco company signed a contract with baotou, 500000 tons of aluminum alloy product structure adjustment upgrade technical transformation project
On December 22, baotou with chinalco (601600, shares) 500000 tons of aluminum alloy products of the company structure adjustment upgrade technical transformation project cooperation signing ceremony held in Beijing.
The Inner Mongolia autonomous region party committee standing committee, party secretary Wang Zhong and, autonomous regions, webber, vice President of China aluminium company party secretary, chairman of the board of directors GeGongLin, luo jianchuan, President of China aluminum co., LTD, the autonomous region development and reform commission, deputy director of the bureau of energy Li Jiexiang, city leaders baotou, Andy attended the signing ceremony.
Wang Zhong and in his speech, pointed out that the baotou city is a national and autonomous regions of the old industrial city, after years of construction and development, already formed steel, equipment manufacturing, aluminum, rare earths, the advantages of the electric power, coal chemical industry leading industries. Baotou city in recent years, adhere to the road of new industrialization, speed up the use of new technology and new technology to upgrade traditional industries, to develop strategic emerging industries, promoting new metallurgical base, base for rare earth new materials and clean energy output, modern equipment manufacturing base, the new coal chemical industry base and so on the construction of "five bases". Formulated introduced this year, baotou baotou new metallurgical industry development planning ", the aluminum industry as a key development, and to make greater efforts to support on the aluminum support package development, actively for aluminium "integration of coal aluminum industry base" create conditions to promote aluminium group become bigger and stronger.
Wang Zhong and said, in recent years, China aluminum company actively support the development of baotou aluminium, promote the transformation and upgrading of baotou aluminium, increase production capacity and new product development capacity, to support local economic development made a positive contribution. The Chinese aluminum company cooperate with baotou build 500000 tons of aluminum alloy products structure adjustment upgrade technological transformation projects, to further improve for baotou aluminium industry development level, to promote transformation and upgrading of aluminium industry is of great significance. Next, baotou city will work closely with chinalco, the entire do well coordinated service, to ensure the project construction, built as early as possible, as soon as possible early see benefits, to create autonomous region level one hundred billion yuan aluminum industrial park.
GeGongLin said chinalco has long-term good cooperation relationship with baotou. In the future, the enterprise will be in the process of the transformation and upgrading of the baotou as chinalco important core aluminum industry base, with all its strength aluminum industrial park construction, development of deep processing industry, extend industry chain, at the same time, achieve greater development enterprise for baotou city and economic and social development of the Inner Mongolia autonomous region, make new contributions.
Baotou, vice secretary of municipal party committee and mayor of clad steel and aluminum corporation of China co., LTD., luo jianchuan, President on behalf of the two sides signed a project cooperation agreement.
Before signing ceremony, the two sides held a discussion, exchanged views on propulsion project related work.
Related posts