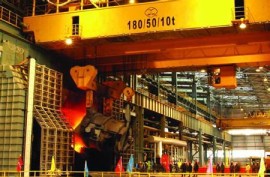 Reporter from chinalco's department of science and technology news, by chinalco took five years of independent research and development of chalco shanxi branch innovation series France has passed through the technical acceptance of China nonferrous metals industry association and scientific appraisal, determine the results of the overall technology has reached the international leading level.
Declining in recent years, with bauxite grade, which leads to the rising production cost, how to utmost reduce the production cost of alumina, chinalco and alumina production enterprise problems to be solved. Chinalco according to production status, the characteristics of bauxite as well as the original fuel prices, to a large number of production cost calculation, put forward innovative series method is used to process instead of mixture combination.the, sintering process of alumina production, and established a special major science and technology, by chinalco in shanxi branch, chinalco international aluminum magnesium design and research institute and shenyang chinalco zhengzhou institute jointly undertake, for joint research.
Major r&d projects, according to the liao, head of the new attendance is introduced: "innovation series method to improve the recovery rate of aluminum oxide and sodium oxide in bayer process red mud, so as to realize the purpose of reduce the production cost."
Work since 2009, the major science and technology special project team to optimize innovative series method and equipment, greatly improve the quality of the process. The implementation of the innovation method of series, compound process needs to be made in the past six kiln to balance the old system of two series of bayer process red mud, now just 4 kiln; And compared with 2008, the old system in bauxite ore consumption grade decrease year by year, not only did not rise, but significantly lower. Comprehensive energy consumption of alumina are down 30%. Authors of the technology research and development, to promote the enterprises play a key role, but also for calcining alumina technology and equipment of big changes.
It is understood that in recent years, chinalco, according to the production and business operation and development needs from the optimization of process, reduce the production cost and cutting-edge technology development, occupy the commanding heights, carry out the research, a number of major r&d projects for the authors of company production efficiency and sustainable development provides a strong technical support.
Related posts