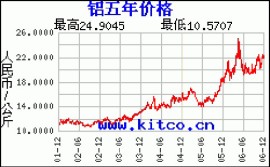 China's national bureau of statistics data released on Thursday showed that China's output of aluminum products in the first two months of the year rose nearly 21%, to 6.9 million tons. Customs data show that at the same time aluminum exports jumped 80%, to 860000 tons.
Shanghai aluminum guotai junan futures analyst Wang Rong said that "in the second half of last year, China's aluminium smelters to open some new production capacity. Locked more new smelter started commercial operation as planned, aluminum and aluminum production this year will continue to grow."
China continues to increase production capacity, and the rest of the world's smelters are cut supplies to raise prices, China's aluminium production accounted for about half the world. Analysts at Sanford c. Bernstein & Co. said in a report on March 6, to avoid semi-finished products 15% export tariffs, some enterprises minimally processed aluminium for export.
LME three-month aluminum floor trading Thursday did not clinch a deal, the final bid was steady at $1748 a tonne, low hit on Wednesday almost a year $1744.85. So far this year, prices dropped 4.8%.
This year, according to Goldman sachs, global output will outpace demand of 460000 tons, the highest for three years, for the shortage of supply last year. The us banking group said in a report on March 4, excess supply suggests that prices will fall further, could reach 6.4% falls in the coming weeks.
Profitable * * * * exports
Citigroup (Citigroup) metal research and policy director David Wilson points out that Chinese smelters have the ability to maintain production, because the government support the low price. Macquarie Group (Macquarie Group) is expected, energy costs accounted for 40% of aluminum production cost.
"The Chinese government urged the power companies to build relationships and smelters," Wilson said in the data. "Smelters currently can maintain high yield, because they can be in the form of aluminum products export earnings."
The first two months of this year, according to data alumina, copper and zinc production also growth. Refined copper production jumped almost 16% to 1.2 million tons. China's copper output reached 7.96 million tons last year.
"Last year, copper production, on a lot of new smelting capacity, the production is the rapid growth stage," Wilson said.
According to the survey, China copper refinery capacity may be increased by 8% this year, or 800000 tons.
Related posts