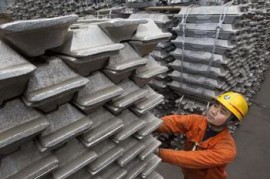 China's national bureau of statistics data released on Thursday showed that aluminium production in April rose to a record high, while copper production has dropped to a one-year low.
In April, according to China's aluminium production reached a record 2.59 million tons, up from a high of 2.56 million tons, domestic refineries continue to expand capacity.
April 1 – aluminium production rose 8.8%, to 10.1 million tons.
China April decline in copper production, on the other hand, since the March 636351 tons to 603498 tons, to its lowest level since April 2014.
China is the world's largest producer of aluminum.
China's aluminium production increases are also pushing up China's aluminium exports, according to data, China's aluminium exports in April 9 months since the lows.
The Shanghai one analyst said, "China's aluminium smelting producers still has room to increase output."
"Several new aluminum smelter in China put into production, so April aluminum production record, also within the expected."
China's general administration of customs, according to data released on Friday April China's exports of raw aluminum and aluminum 20% month-on-month rise to about 430000 tons.
1 – April, China's export processing 1.65 million tons of aluminum and aluminum, greatly increased 40% year-on-year.
And the world's largest aluminum producers – Russian aluminium, said GuoChanShang increase in exports will make this year aluminum market supply and demand gap has been filled.
Russian aluminium group President Vladislav Soloviev said on Wednesday that China increased aluminum exports or can fill the international city of supply and demand gap.
Alcoa said in April this year, this year the global aluminum market is expected to the excess supply of 326000 tons.
China's first four months of this year's aluminium production is 10.1 million tons, 8.8% increase over last year.
Related posts