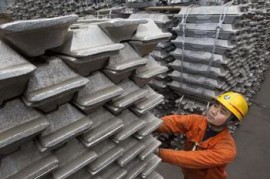 Largest copper producer, Codelco, said on Wednesday closed due to heavy rains in northern Chile copper mine are to resume production, but its Salvador laurel mines is still closed. On Friday (March 27) London base metals most falls, the international price of copper followed oil prices fall, fell to the lowest level this week, but copper is still recorded rose for a third straight week, helped by the main producer Chilean copper closed. The three-month London metal exchange (LME) copper closed down 1.9%, at $6005 a tonne, earlier hit a low of $6046.50 a week. Copper hit on Thursday January 2 days the highest $6294.50, little rose 0.4% this week, for the first time since last year rose for three weeks. Other metals, the three-month tin closed up 0.3%, at $17205 a tonne. The three-month nickel dropped 2.9%, at $13285 a tonne, dragged down by LME stocks remain near record highs. The three-month lead closed down 1.5%, at $1825 a tonne, but jumped 5.4% this month. Three-month zinc closed down 0.4%, at $2082 a tonne, three-month aluminum fell 0.3%, at $1782 a tonne.
Yemeni military conflict will affect the concerns of the Middle East crude oil transportation, oil prices fell, suppresses the fund investment on including copper and other metal products. A few days ago, jiangxi copper ii (600362, shares) chairman, said copper prices over the next two to three years is expected to stay weak near current levels. Ii, says China's economy slows, the industrial restructuring and the dollar have caused copper stress are likely to continue until 2018. Copper prices fell 14% in 2014.
Yellen speech, chairman of the federal reserve to raise interest rates on Friday is expected to boost, the fed chairman yellen said Friday that the fed will raise interest rates this year, but the rate of progress will be slow. Yellen and his colleagues at the federal reserve, says the fed to raise interest rates gradually will be the norm of the next few years. Yellen said the federal reserve to raise interest rates later 2015 could be guaranteed. The progress on the inflation target clearly limited, and the fed have work to do on the job target. But some weak inflation phenomenon is due to one-off factors such as a drop in oil prices. Yellen, according to the job market is expected to be made positive progress in the coming months, and the GDP may be in the next few quarters at above potential growth potential in the development, but if the salary increase, weak core inflation and inflation expectations, will not be suitable for raising interest rates.
In China nonferrous metals industry association has three five council, non-ferrous metals industry association Chen Quanxun, according to the association in 2015, is one of the important tasks more measures and solve the excess capacity, especially in the electrolytic aluminium industry overcapacity. Overcapacity is a big problem in electrolytic aluminium industry. , according to data provided by the non-ferrous metal industry association since 2013 although the electrolytic aluminium production and production capacity of about 3.38 million tons, but currently runs about 32 million tons of production capacity, but also a part of the new production capacity in the release, the excess pressure is very big. Excess capacity and yield of high aluminum prices have weakened. According to the association secretary-general Jia Mingxing says, the current domestic electrolytic aluminum prices have dipped below 14000 yuan/ton, equivalent to the level of twenty years ago. Aluminium smelting industry in the industry for two consecutive years of losses, and losses of 7.97 billion yuan in 2014, compared with the same ZengKui 5.97 billion yuan.
Moreover, Indonesia's largest tin miners, head of PT Timah Sukrisno told reporters at a news conference in Jakarta on Thursday, is expected in the second half of the tin will be above $20000 a tonne. The company expects prices are expected to reach $25000 – $26000 per ton. PT Timah, an official said, the company has reached an agreement with a refinery organization, will take a month of tin maximum total exports in 4500 tons. Indonesia is the world's largest exporter, is trying to seek the way of price support.
Related posts