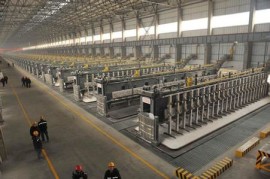 On December 21, China nonferrous metals industry association, vice President of literature military during a speech at the annual meeting of the industry, said: China's aluminium industry firmly limit new capacity, efforts to expand application aluminum, dissolve excess capacity can see results from 2 to 3 years.
Non-ferrous metals costs high. October 1 to 8645 scale above non-ferrous metals industry enterprise financial cost 58.7 billion yuan, up 22.5% year on year, 13.5% higher than the main business revenue growth, the interest expense is 49.2 billion yuan, up 10.7% from a year earlier. Management fees of 75.6 billion yuan, an increase of 5.4%, 3.7% lower than the main business revenue growth. Operating expenses 36 billion yuan, up 12.3% from a year earlier.
Non-ferrous metal is the first large aluminium, aluminium was very hard, iron and steel industry and the profit margin of 0.6%, but is non-ferrous metal loss. Some people say that China's price is so high, resources so nervous, global excess capacity, can we produce less aluminum line not line? Especially attention to Indonesia after aluminum exports, society has a point, we pull the coal mine in from abroad, domestic consumption of resources and pollution environment of the country, we put some aluminum steel pin out worth it? Industry-wide losses now, every policy adjustments, electrolytic aluminium are no good, we can not do less? Some people say that don't pollute the environment, we buy, we can use the foreign exchange reserves to buy? Really like standing up. China's aluminium must be self-sufficient, if China's imports of aluminum to electrolytic aluminium prices will surge, if does not rely on the domestic production of electrolyzed, our economic construction is bound to pay a high price.
We hear the media over the years, including the from all walks of life bad-mouthing aluminum industry in China, said the high energy consumption of the electrolytic aluminum. I have a couple of judgment about the present situation of this.
Health is the first overall, unlike the outside world, conform to the state of the electrolytic aluminum. National demand for aluminium is to meet the domestic demand is given priority to, there are a few can supply the international market. Equipment and technical indexes of domestic electrolytic aluminium that basically is in the international leading level. And electrolytic aluminum production equipment all localization. Domestic refining capacity layout optimization continuously, the investment structure divided, domestic consumption is rising rapidly, new consumption growth appear constantly.
Second, introduction, digestion, absorption, re-innovation is take the shortcut, we are a serious shortage of basic research. We still owe a lot on basic account, cause we lack of core competence. In the past to earn money, contradictions are not, not to earn money now, the contradictions fully exposed, but it's not a bad thing. Core competitive ability is insufficient, we are not denying the national scientific research system for so many years, but there are indeed some shortage, aluminum, all are metal materials, the most core is alloy, aluminum alloy grades now most use outside, we reform and opening up have a formulation is called? Introduction, digestion, absorption and re-innovation, contribution to do have quickly narrow the gap between the west, but to surpass others, not the core of creativity, with others do the same level, will that do? What others did not, can we do? I think scientific research system has a lot to do with us, we went to a topic, basically we study, we identified, we firstly, then the professional evaluation, and then finished, how many into real productivity?
To dissolve the excess capacity we just talked about, but for the aluminium industry, resolving a group of four, real work on the aluminium industry is a batch of digestion.
Domestic electrolytic aluminum investment fell 12% year-on-year in 2013, 1 to October this year, fell 21% year on year, corresponding processing industry investment 28%, year-on-year growth of 26% this year. Aluminum at whatever price is good, no excess production of electrolyzed and a large number of unsalable, this phenomenon is not. Real aluminium smelting capacity in more than 95% normal conditions, the data is annual production, the capacity of the denominator is December 31.
Loss of electrolytic aluminium started in 2013. Processing industry this year and next year we have profit, so the investment will turn to professional processing. Electrolytic aluminium three macroeconomic regulation and control, why can't help? Approval no rule, make money not approved. The market demand to expand consumption. List of electrolytic aluminum to think big style, the first building, the second is traffic, now basic on the building, to keep the level of a third this year began to expand the application of aluminum in the construction industry, like aluminum sheet. Growth is the biggest traffic in the future, North America, Europe, Japan's largest consumer traffic, traffic to catch up with the energy conservation and emissions reduction, aluminum so we must go a long way.
Our sales focus on the first is the transportation, the second is the construction. We wanted to give a little policy move, but the policy to now also did not move. Is government inaction, I believe that the five years, ten years later, China will be in full aluminium big trailer, we hope the policy only give a little move, can put this one or two years in advance, we calculate the Posting, if western level, enterprise benefit, the government could have to reduce emissions, but we are calling for more than two years of policy did not fall to the ground.
Closed the whole aluminum car market, like smoke, bringing her food in the car, and so on, the car is closed, aluminum car there is no way to overload, we the whole aluminum closed car, to do with aluminum, such as ice truck can improve efficiency, and can reduce fuel consumption and emissions of carbon dioxide. We recommend the aluminum formwork in the construction field. Our workshop is done with choi steel with aluminum plate on the weight ratio is 1 to 2, but aluminum life is more than 30 years without maintenance, of course, the steel industry is also in progress, but steel determines the nature, as long as there are leaks in place will be corrosion. So its building next year and a large activities, is to promote aluminum plate, this construction is very simple, so the electrolytic aluminium despite overcapacity, but do some resolve aluminium works, we believe 2016 will be continuous progress.
A breakthrough in the technology of the electric power industry, why so much for copper, is because the Chinese just need. If we use aluminium, it doesn't matter for our consumption, but with less copper is very important meaning. If use 10% less copper, can save a lot of foreign exchange.
Related posts