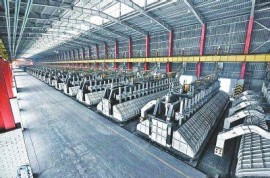 Electrolytic aluminum industry in China since 2002, electrolytic aluminium production began to excess, affected by the downstream industry demand, China's electrolytic aluminium surplus is expected to reach 500000 tons in 2008. In recent years, the electrolytic aluminium industry overcapacity has become well known, the reason is that with capacity expansion speed faster than every year. According to data show that in 2014 China's aluminum industry achieved a profit of RMB 41.4 billion, fell 5% year on year, net profit fell the basic for the electrolytic aluminium enterprise. Today, in 2015, has more than half, many aluminium has announced the center daily news listed companies, so, how does the company's performance in the first half of this year?
According to "securities daily" reporter understanding, at present, our country involved in the electrolytic aluminium listed companies with a total of nine, respectively at the stake, chinalco, cloud aluminium co, nanshan aluminum, western mining, zhongfu industrial, jiaozuo ten thousand, minmetals rare earth, shenhuo shares. As of August 29, the nine companies have released 2015 annual report, from the point of earnings, shenhuo stake, zhongfu industrial, cloud aluminum shares three net losses, the three companies, the highest zhongfu industry losses.
, according to 2015 NianZhongBao zhongfu industrial company achieve the business income is 4.422 billion yuan in the first half of this year, compared with last year fell 13.1%, the company net profit loss of 75.3538 million yuan, compared with last year fell 152.94%. Company announced, affected by the weak peripheral market demand and supply and demand, prices remain low, and the future a long period of time, will remain in the low, rising power co., LTD. Domestic electrolytic aluminum excess pressure is still at the same time, production capacity has been part of the new release in the first quarter, it cause certain negative to the rise in prices. But new energy automobile production, affordable housing construction, growth of the consumer goods are keep aluminum market demand strong.
The company said that the current asset impairment loss fell 25.05 million yuan to 12.35 million yuan, the main reason for the current period to reduce inventory provision; Investment income fell 23.26 million yuan to 2.31 million yuan, the main reason for the current caused by affiliated company profits; Non-operating revenue fell 262 million yuan to 4.83 million yuan, mainly for the current received government subsidies and non-current assets disposal income decrease. From the point of center daily news, zhongfu industrial aluminium operating income was down more than 26.36% from a year ago,
Related posts