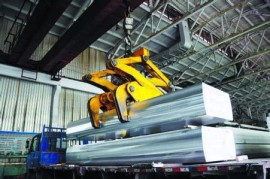 Into the New Year, domestic prices decline. In January according to the statistics, the Yangtze river aluminum spot month average price is 12788 yuan/tons, from the previous month fell 524 yuan/ton, down 3.9% y/y, down 7.6% from the same period a year earlier, in the same period last year prices for 13842 yuan/ton. Although prices continued downward, month showed certain defensive, mid to late aluminium basic in a state of sideways.
According to statistics, as of the end of January, the domestic aluminum smelting enterprises to build production capacity of 36.69 million tons, run the production capacity of 31.007 million tons, production operating ratio 84.51%, fell 0.09% last month. January's capacity for growth of enterprise: xinjiang xinfa, henan tianyuan, shandong weiqiao, qinghai hydropower, liaoning yingkou zhong wang, west Inner Mongolia huo coal hong jun aluminum electricity; Capacity to reduce the enterprise: huangguoshu in guizhou aluminium, sichuan the meishan, sichuan aostar aluminum.
Built in January, the domestic production capacity 480000 tons, reduced growth running capacity reduced growth around 375000 tons. In February, China will soon celebrate the Spring Festival holidays, is expected to smelters to basic stability, the overall capacity change is not big, but does not exclude the price slumps further production cuts may lead to the high cost of enterprises.
Related posts