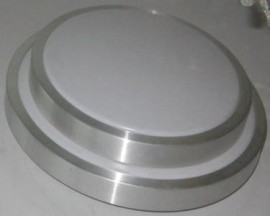 In the first three quarters of this year, the national ten kinds of non-ferrous metal production 31.95 million tons, up 6.6% year on year, growth is slowing down 3.2% year-on-year. Electrolytic aluminium production 17.59 million tons, 7.8% growth, slow down 0.9%; Copper production rose 11%, slow down 11%; To lead production fell by 5.6%, the same period last year growth of 6.1%; Zinc production growth of 4.6%, slow down 7.1%. Alumina production growth of 4.8%, 8.2%.
Compared with last month, the electrolytic aluminium prices rose, copper, lead and zinc prices fell. In September, the Shanghai futures exchange electrolytic aluminum futures that month average price is 14478 yuan/ton, rose 3.7% than last month, rose 0.9%; Copper, lead futures that month average price respectively is 50139 yuan/ton and 14277 yuan/ton, than the last month fell 0.6% and 0.6%, down 4.9% and 1.7% compared to the same; Zinc futures that month average price is 16680 yuan/ton, than fell 0.6% last month, up 11.3% year-on-year.
1 – August, non-ferrous metal industry profits of 105.6 billion yuan, up 2.4% from a year earlier. Among them, non-ferrous metal CaiXuanYe profit is 35 billion yuan, down 9.4%. Non-ferrous metal smelting and rolling processing industry profit is 70.6 billion yuan, an increase of 9.5%.
Related posts