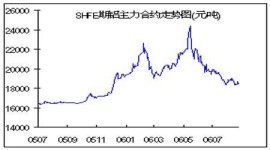 , according to announced on February 11, Japan's sumitomo corporation trade company, according to the 2015 global aluminum excess supply will be the ninth consecutive year, with China unprofitable smelters to keep production to protect jobs. China is the world's largest producer of aluminum.
Sumitomo metals trading team manager Shingi Yamagiwa said that 156000 tons of aluminium supply surplus this year, less than 2014, 223000 tons of excess amount.
Sumitomo will next quarter price forecast to $1900 a tonne, lower than previously expected $2150 a tonne.
Over the past 12 months, prices have risen by 5%, due to refinery outside of China close to cutting global oversupply.
Last year, at the same time, China's production continues to grow, primary aluminum and aluminum production in China increased to a record high.
LME three-month aluminum fell 0.8% on Wednesday, at hk $1822 per ton.
In Tokyo on February 9th Yamagiwa said in an interview: "China's aluminium production too much."
"China supply adjustment will be delayed to around 2017, the local government's position or will change and influence production."
Sumitomo, according to China's aluminium production in 2015 will increase by 8.8% to 28.1 million tons, 1.2 million tons more domestic demand.
Yamagiwa, according to China's local government delayed closing coastal area small and medium-sized smelter, at the same time rely on low-cost producers in the expansion of thermal power generation.
China's refineries operating loss, output growth.
Sumitomo, said Chinese smelters per ton aluminum average cash cost forecast of $2127, higher than the $1932 a tonne, Russian smelters the $1763 a tonne for smelters in the Middle East and North America smelter of $1770 a tonne.
At present Japan's record high, buyer's premium aluminum for the LME cash price high of $425 per ton; China's aluminium exports increase will help curb litres of water.
Yamagiwa said: "Japan's rally seems to break a record high premium over."
Related posts