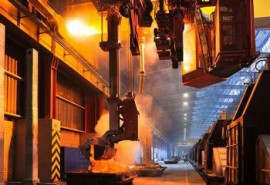 A slap shot to draw what's that noise? Which are supposed to be a problem, there is no answer when he was the enlightenment disciple is zen questions. But used to describe the status of the current global aluminum metal production, also like it.
Is trying to slap on the hand, that is, outside of China aluminum producers, producers of self-discipline behavior has successfully suppress supply, make the aluminum market into the supply shortage.
This state of enlightenment is spent several years to reach, but this is just the first step in correcting the past mistakes. The past accumulated millions of tons of excess supply, still a heavy crackdown to aluminium.
However, to make a quarrel, and the other a slap still pay the rights.
China's aluminum smelting is still a serious lack of discipline, under the support of local government, obsolete refinery still alive, and the new capacity has been continue to put into production.
In this case, the Shanghai aluminum prices depressed, according to some estimates, the entire Chinese aluminium production capacity of operating, at least half of the production is at a loss.
Now with processing aluminum products to accelerate the export, that is no worse; But some exports doubt why the definition of "aluminium".
Global aluminum production polarization phenomenon is not new. This has been a long time, but now more and more serious.
To do his duty not to put
According to the international aluminium institute (IAI), outside China aluminum production last year amounted to 24.43 million tons.
This is 0.7% less than the previous year, for the third consecutive decline in output.
December's annualized yield is 24.6 million tons, compared with the 25.92 million tons of high in October 2011, 1.2 million tons.
But this number disguises outside China in most of the actual circumstances of the production, because the Persian gulf region original refinery capacity expansion, with annual capacity of 740000 tons of Ma 'Saudi Arabia Aden refinery production, so that the rapid growth of aluminum production gulf region.
However, output growth in the gulf region are gently down, annualized yield only slightly more than 5 million tons.
At the same time, Western Europe and eastern Europe, North America and Oceania region's decline in output is also almost come to an end.
Indeed, reducing productivity is one of the largest in Latin America last year, down nearly 20%, have extremely large aluminum smelting in Brazil, now continue to strike because of low price and high energy tariffs and atrophy.
Therefore, news from the latest production by Brazil, namely in October last year announced the closure with annual capacity of 50000 tons of Ouro Preto refinery, was not a coincidence.
Some of the high cost of smelter group is turned off, market attention is inevitably transferred to them the possibility to restart.
Especially in Western Europe, some closed capacity is likely to return. Such as Klesch is prepared to restart Delfzijl Dutch refinery, German Voerde refinery were Trimet to rescue. Both before the refinery is bankrupt.
At least so far, however, Alcoa (AA. N) and aluminum (0486 HK), and other larger smelters have not been showing signs of restart spare capacity.
The Persian gulf after capacity expansion of the peak in the past, now also don't have a lot of new capacity is built.
India has a possible exception, but Indian companies also need to grope for uncertainty of the policy, because of the government of India to the use of coal, bauxite and quota restrictions. Coal India aluminum smelter is the main production of power energy.
The other side of the world
Compared with the rest of the world, the situation in China it couldn't have been more different.
According to the national bureau of statistics, China's aluminium production increased 7.7% to 24.38 million tons last year. The yield data of China nonferrous metals industry association has not been released, but from November 1, 2014, the two sets of data is quite consistent.
The two data are also common, which have seriously understates actual aluminum production in China.
Now, to be precise, the aluminum association announced China nonferrous metals industry association (CNMIA) data, including the Chinese monthly production of 300000 tons of unforeseen report forecasts. This year it has 3.6 million tons, equivalent to the output of the whole Western Europe last year.
According to the analysis of institutions AZ China says it probably about the same. They estimate China last year for 2750-2750 tons of production.
Drive yield rising double impetus has two: one is China's northwestern province of xinjiang capacity continues to expand, the second is under careful and efficient power of local government subsidies, about 2 million tons of production capacity to enable.
According to AZ China, this will be more than this year to close the old refinery capacity, of production may further increase to 29 million tons this year.
AZ China on January 9, titled "China's aluminium market oversupply" research report, said that depends on China's industry largely to western trade the possibility of that state of enlightenment.
Look at the London metal exchange (LME) and the Shanghai futures exchange (SHFE) the performance of the aluminum, the polarization is more obvious.
In early 2014, the LME prices rose nearly 4%, Shanghai futures exchange prices dropped more than 13%. Is that still does not take into account when the west super backwardation structure.
Chinese refinery material may have more financial losses. AZ China's Paul Adkins told the Reuters base metals on the BBS, suggested that the leader in the industry of China aluminum corporation (Chalco) to improve the price and find another way, it is expected to form a coalition, bypass SHFE can directly to consumer customers.
This strategy can the chance of success is very low, in the aluminum fluoride market quickly lost.
The current state of affairs indeed highlight how the market's distress.
Pressure relief valve
For Chinese refineries, mainly reduced pressure pipeline is still the domestic surplus production, with intermediate type into the international market.
Aluminium is still an export duty of 15% semi-finished products can enjoy VAT refund.
, thanks to the domestic and international price gap between this kind of half processing aluminum products export steady growth. Preliminary figures released on January 13, to an all-time high in December exports. The aluminium producers to sit outside of China.
More let them through, analysts have generally believed that the export of a part is only through the minimal processing of aluminum metal, is classified as "processing", in order to qualify for tax refund.
This representative, the Chinese half processing aluminum products not only crowded out of China aluminum market demand, also exclude the aluminum part of the original requirements.
AZ China Adkins think that Beijing could gradually through the tariffs, to strengthen the inspection of export goods. Purely market forces may also inhibit the Chinese aluminum products export growth, because the Asian market has become increasingly saturated.
Related posts