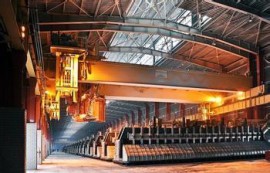 Non-ferrous metals industry for many years the "bear market", now "rise, the price falls, income, not ZengLi" has become the pronoun of industry. Electrolytic aluminium industry overcapacity also has formed at present. Industry facing the product prices are low; Industry overall losses; Financial leverage high three questions. Double hit by rising costs and prices are low, the industry average debt ratio is as high as 80%, electrolytic aluminium industry is higher credit risk.
The first nine months of 2014 China's non-ferrous metals production and income increased by 9.35% and 6.57% respectively, growth of the national bureau of statistics in the lowest level since the data statistics, affected by the fall in prices, non-ferrous metal mining industry in the first nine months of total profit of 39.7 billion yuan, down 10.48% year-on-year. Industry entering low speed growth stage.
From January to September 2014, global electrolytic aluminium production 38.86 million tons, up 3.10% from a year earlier. Speculated that by the end of 2014 global aluminium production capacity has reached 60 million tons, spare production capacity of more than 8 million tons, expects 2015 global unused electrolytic aluminium production capacity will reach 10 million tons. Industry output growth will remain around 4% ~ 5%, global aluminium output will reach 55 million tons in 2015. Global aluminium production capacity surplus capacity has been formed, become an important factor of electrolytic aluminium prices rebound, at the same time cost of alumina industry is gradually rising, since the second half of 2014 import alumina price from 2500 yuan/ton rose to 2800 yuan/ton, or additional cost 600 yuan, tons of aluminum electrolytic aluminum industry overall profitability is expected to continue to fall.
Related posts