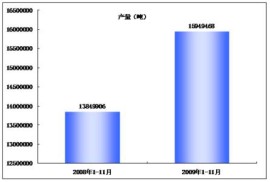 According to Goldman sachs (GoldmanSachs), bauxite in Indonesia after the ban on exports to make market supply shortage, will be used to make aluminum alumina prices to stimulate demand.
Goldman sachs analysts, including MaxLayton on Wednesday (Nov. 5) wrote in the report, a key component of aluminum production of alumina, the price will go up in the second quarter of next year to $370 / mt, in the second half of next year, prices will rise to $380 per metric ton to encourage demand, and promote Chinese producers use more expensive imports of bauxite. Analysts said that alumina supply shortage will be from 2014 tonnes in 138000 to expand to 2015 tonnes in 639000.
Analysts pointed out that: "the current alumina market is facing an unprecedented impact factors, Indonesia bauxite… the ban that export bans bauxite is in short supply situation, also pushed the country's exports to China's alumina slowdown."
This week on the London metal exchange (LondonMetalExchange), aluminum nickel outperformed, is six important annual top performers in the metal. According to Goldman sachs, said since January Indonesia ban, aluminium, nickel prices have been pushed to a higher level. Indonesia bauxite supply accounted for 10% of global supplies – 10%, and 50% are exported to the world's largest aluminum producers – China.
Alumina co., LTD. (AluminaLtd) strategy development executives AndrewWood said in a news conference in Singapore last week, Chinese bauxite inventory run out next year or will face a 1000-15 million tons of bauxite. Before the ban in Indonesia, China inventory ore in Indonesia is on the decline, at the rate of reduction of 1 million mt/month may inventory will reduce to 20 million tons this year, before the end of next year will fall to 8 million tons.
Related posts