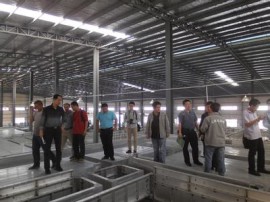 Guangdong has always been "aluminum" the laudatory name, especially in good times, a few years ago the aluminum industry is a bonanza for aluminum processing enterprises profits in return.
But "can wast, and shalt not than", by the influence of excess capacity in nearly two years, aluminum prices have been falling, and the whole international market remained weak downstream demand, the day of aluminum processing enterprises "difficult"!
As a possession "half" of Chinese aluminum industry in guangdong, "short" is a "normal".
Building material industry trends, a large part of the factor depends on the real estate market "cloudy" condition. What you see, the national real estate developers are "squealed" over the past two years, that real estate is "cold", markets wait-and-see mood serious directly lead to building development growth is slowing, building doors and Windows, household decorative aluminum as an important component of aluminum consumption is in a downturn, says "difficult, weak demand, price competition" phenomenon nature is not empty!
With the corresponding processing another industry, industrial aluminum profiles and what kind of living conditions? Bad environment "with the wind and sweeping", of course, industrial aluminum will also be affected. Regardless of the level, only is the guangdong area industrial profiles situation, the development of the industry generally has several obvious characteristics.
First, the small amount of scale. Guangdong province to be the main direction of aluminum processing in terms of architectural profiles, especially in foshan area, a well-known manufacturer of Windows and doors curtain wall profile about nearly 100, middle and small scale processing plant and the land is. Guangdong province aluminium consumption "big head" is here. And industrial profiles production enterprise is yet to be improved, a well-known have certain comprehensive strength of the manufacturer is a handful. No matter from the number of enterprise scale or by the manufacturer, the development of guangdong industrial aluminum is takes a lot of room for improvement.
Second, the auxiliary production properties significantly. From the current situation of industrial aluminum industry in guangdong province, engaged in industrial profiles production more than business itself for building material industry, including production equipment, electronic components products and services, products involved in the application domain is relatively narrow, which largely limits the breakthrough and development of the industry as a whole industrial profiles. Except, of course, the automotive industry.
Third, the product added value is not high. Guangdong industrial materials nationwide survival environment in addition to the local area is not strong, does not like construction profiles can lead the national market. This makes the industrial profiles is hard to play their own famous brands like building material, brand to stimulate production. High-end industrial profiles at the same time, production is generally weak, to be able to produce high-end profiles of enterprises is relatively small, mostly in the form of electronic components and other industries use products processing production, thus lead to the product added value is not high, the competition strength is not strong is one of the guangdong industrial profiles "soft rib".
Fourthly, industry development lack of guidance. Guangdong area still can not as strong as building material industrial aluminum industry development of one of the main reasons is lack of effective guidance. That can lead to enterprise development industrial profiles confidence is not strong, higher costs. Guide to keep pace with time and industry will be formed on the development of the region the entire industrial profiles.
Fifthly, export is convenient, the industry cluster advantage is obvious. In guangzhou as the coastal open cities in China. In the whole of guangdong regional economic prosperity has incomparable superiority. Most cities in guangdong province developed in an open environment to formation and export trade industry provides a great convenience, for industrial profiles to the international market to build the atmosphere of the "active". At the same time, the obvious advantages of industrial cluster in guangdong area aluminum processing has a wealth of industry experience for the exchange, on the growth development of material processing enterprises are of great help. Relatively high concentration of industrial resources for industry development to foster the excellent "soil".
Its six, form a complete set of relatively perfect. Industrial concentration advantage to profiles laid a good foundation for the development of industry, the continuous development of long-term for aluminum processing provides a perfect supporting services. Including product material transportation and service system construction, product problems and so on.
Its seven, native products digestion ability. Guangdong aluminum consumption itself is a big province, the land and electronic processing plants aluminum demand is relatively large. Guangdong industrial profiles "its good" just to pull material product has natural advantages in situ transformation to absorb.
Finally, we should see that the development of guangdong area industrial profiles can do have a lot of room for improvement, and that means the guangdong industrial materials development is full of opportunities, especially with the development of transportation industry in our country, rail transportation and auto industrial aluminum will have unprecedented strong demand. It also have created favorable conditions for the development of industrial profiles.
Related posts