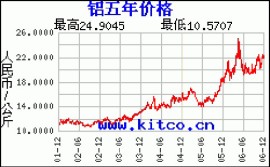 Asian metal statistics, in 2014 China's aluminium fluoride production rose 23.7%, to 610000 tons. The data from China's 14 annual capacity of 30000 tons of aluminium fluoride producers, its total production capacity of 990000 tons, accounting for 82.4% of all aluminum fluoride production capacity in China.
In 2014, hunan emerging aluminium fluoride production factory production gradually released, lead to increased supply. At the same time, the northwest part of aluminum fluoride expansion. This is also one of the main reasons for China's aluminium fluoride market downturn.
At the beginning of 2014 China fluoride aluminium prices remain above 7000 yuan/ton, but then gradually lower, until may. This is mainly because the excess supply of aluminium fluoride and China aluminum market downturn. Since the middle of 2014, aluminum fluoride prices began to rebound, in the second half at 6400-6600 yuan/ton. Most of the aluminium fluoride producers are losing money, over the past six months capacity utilization is not high. At the end of 2014, fluorite is not sharply higher prices, price rises in most aluminum fluoride.
Due to heavy losses, a lot of aluminium fluoride producers don't plans to increase production. Northwest of new capacity, in the first half of 2015 an annual output of 30000 tons of aluminum fluoride is expected to be put into production. Is expected in 2015 China's aluminium fluoride production will not increase. Electrolytic aluminium production in xinjiang will be further released in 2015, will effectively stimulate the aluminium fluoride demand, the domestic market price is expected to be improved. However, as more and more aluminum fluoride supplier to the international market, aluminum fluoride export market competition will intensify.
Related posts