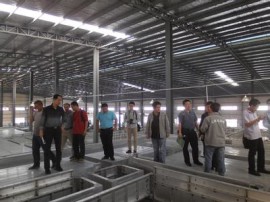 In ABU dhabi aluminum fluoride hopes to seize the local smelters growing demand. The factory with a total investment of $410 million, GulfFluor by family enterprise operation and management, is currently in production.
Gulf Fluor will produce 60000 tons per year aluminum fluoride and other used in aluminum industry, construction, agriculture and the chemicals in the field of refrigeration.
Aluminium fluoride is mainly used in aluminum production, the product in the bay area has developed rapidly, mainly due to the local energy of low cost, wide harbour facilities and the booming construction industry.
Company target markets including the united Arab emirates, bahrain, Oman and other demand growth areas.
The bay area demand for aluminium fluoride to 70000 tonnes a year, is expected to reach 106000 by 2020 tons/year.
EGA, President of the united Arab emirates (uae) region, Saeed Fadhel Al Mazrouei said, the united Arab emirates (uae) two large aluminum smelter the united Arab emirates aluminium (Emal) and dubai (Dubal) global aluminum industry company merged with the united Arab emirates (uae) (EGA), each year to 45000 tons of aluminium fluoride, but are imported from Tunisia and Italy. He said from ABU dhabi's new business from now on will obtain most of the aluminium fluoride.
Related posts