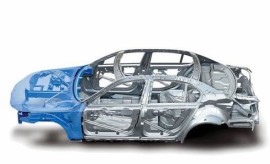 The 2015 Frankfurt motor show on the eve of the opening of jaguar SUV's first official starting around the world, under the trend of SUV segment of the market is still hot, jaguar's first SUV will further promote the brand sales promotion after listed. Recently, netcom club learn from jaguar official: jaguar first SUV Germany world debut on September 15, local time, the car will be in the factory in Britain solid Hal and will begin in 2016 in the global auto market sales, new car all adopted the same as the jaguar XE modular aluminum body.
Jaguar F – PACE in appearance in reference to the C – X17 concept car design, the design of the jaguar family-based language, let F – PACE with a high degree of brand recognition. From the perspective of a previously published official images, a new jaguar F – the Pace of the side of the line is very long, and the long short front and the rear of the body layout, and tall waist line and large wheels, and suggests that the movement of the positioning.
New car interior trim parts, jaguar F – PACE instrument panel modelling more concise design style, at the same time the shift in the way adopted shift knob type and equipped with electronic hand brake. Located in sport SUV F – the PACE of the front seats are all in a certain degree of package design, in everyday use, should be able to provide good support. At the same time, the F – PACE using liquid crystal instrument, three type of multi-function steering wheel also underlines the campaign on the interior design elements.
Jaguar F – PACE in terms of power will provide a series of Ingenium 2.0 T, 3.0 T petrol turbo diesel engine and 3.0 T supercharged engine choices, but 3.0 T diesel turbocharged engine will not introduce the domestic market. The jaguar Ingenium latest developed by 2.0 T four-cylinder engine, will be equipped with the turbocharger, also equipped with high-pressure direct injection system and variable valve timing system. While Ingenium series 2.0 T engine also did quite well in lightweight, compared with displacement engine used in jaguar land rover will now lighter.
In recent years, with the rapid growth of the SUV segment, consumer demand for the use of the models are increasingly diversified. In the midsize SUV market, puts forward the concept sports car design build suvs and more than a jaguar F – PACE, a porsche with the level of suvs X4 MACAN and BMW is also has a roadster sports fan's design elements, jaguar F – PACE after launch to form competition with the two models. Jaguar with focus on the production of cars and car experience, will be more confident in the same level in the market.
Related posts