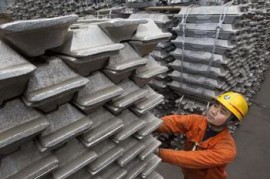 Japan's big three port inventories 12th consecutive month of growth, to the end of march hit record highs, and real estate demand is slow because of high imports.
Inventories surprising, because the Japanese buyers have cut 1-3 month delivery aluminum purchases and some company efforts to cut inventory before the end of the fiscal 2014.
Many Japanese enterprise fiscal year is at the end of the March 31.
A trader said: "see inventory increased again, we are surprised, because the traders and the user is trying to cut inventory before the end of march."
Trade company Marubeni (Marubeni Corp) announced on Monday, as of the end of march, Osaka, Nagoya, yokohama, Japan, and the three port hold inventory for 457000 tons of aluminum, a 0.8% increase in late February 453400 tons.
This break before February hit a record high, data for nearly 15 years ago highest level since records began.
Because of China's exports increase amount of aluminum ingots into Japan, Asia aluminum semi-finished products increased supply.
China's aluminium exports increased by about 19% last year.
At the same time, the Japanese in 2014 aluminum imports rose 16% from a year earlier to 1.698 million tons, is the highest level since 2010, and aluminum alloy imports increased by 11% to 1.125 million tons, is the highest level since 2008.
But on Monday, according to the latest trade figures released by the Chinese in March, including aluminium, aluminium alloy and semi-finished aluminium unwrought aluminum and aluminum products exports down 14.3% compared with the previous month.
Another Tokyo traders said: "we suspect behind the drop in exports is premium and LME prices decline, but that is not clear whether this will be a trend, or is only a temporary decline in."
Supply growth, from area to area in Japan aluminum buyers pay the april-june period schedule aluminium litres of water drops, for six quarters for the first time.
In the face of high inventory and excess supply, prices have from August 2014 hit a record high of about 17% drop.
Aluminum producers and traders said Japan's overall demand has been very stable, solid, helped by calendering products demand but aluminum extrusion has been dragged down by slowing housing starts.
Related posts