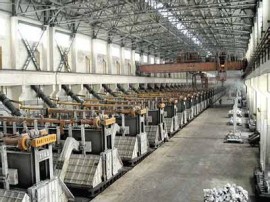 China nonferrous metals industry association regularly industry climate index and economic daily research center, the national bureau of statistics of China's economic prosperity monitoring center monthly measures jointly compiled by the non-ferrous metal industry boom index, according to a report in June 2015, classics in non-ferrous metal industry climate index is 55.7, from the previous month pick up 1.4. Classics in nonferrous metal industry leading index is 88.5, the previous month back up 2.2 points. Since this year, non-ferrous metal industry climate index had five consecutive months, and in the normal range, that of non-ferrous metals industry continue to stabilise.
According to the specific industry, non-ferrous metal industry production steady growth, the sales revenue back slightly, improve profit. In may on a seasonally adjusted, ten kinds of non-ferrous metal production grew by 13.0% year on year, growth is expanded 0.8% last month, in a "normal" range; Non-ferrous metal advocate business wu income fell 1.2% year-on-year. 1 to 5 months, the scale of industry achieved a profit of 52.3 billion yuan or more enterprises, especially in the aluminum industry after more than two years in a row the industry losses, achieve the turnround.
Index report also showed that nonferrous metals enterprise profitability between differentiation is obvious. The metal varieties, copper, aluminum, lead and zinc profit rebound, molybdenum tungsten, rare earth falling profits. Points of economic type, loss of state-owned enterprises, private and foreign-funded enterprises to make a profit. From mining, smelting, processing each production link, corporate profits continued sharp drop in mines, processing enterprise profit continued to grow.
"Non-ferrous metals as an important support materials, new technology revolution is still a sunrise industry." China nonferrous metals industry association, said Zhao Wuzhuang, director of the policy research office of the non-ferrous metal industry is still in the important strategic opportunity for development, the current running stable overall restructuring to speed up the pace.
It is understood that run a positive change, non-ferrous metal industry with our country economic stability into the overall situation of closely related. For some time, the national policy of a series of steady growth in the positive effects of fade in, to stabilize the non-ferrous metals market demand and price has created a favorable environment, alleviate the pressure of the enterprise cost. And continue to promote economic structural adjustment, speed, high and new technology industry development for non-ferrous metals industry development provides new opportunities.
"Nonferrous metals enterprise is recognizing the new normal, actively adapt to the new normal." China nonferrous metals industry association deputy secretary-general Wang Huajun said that from the current situation, high technology content, high value-added products and new materials production and processing of demand will maintain rapid growth. Production of high-grade copper, aluminum deep processing products of large private enterprises has become the important force in the steady growth of non-ferrous metals industry.
The forecast in the second half, concerned expert thinks, non-ferrous metals industry is expected to continue to run smoothly, growth remain at around 8%; Factors constraining stabilised industry recovery but still, the more the oversupply situation in domestic and international markets have obvious difference, mainly non-ferrous metal prices downward pressure increases, the benefit of the nonferrous metals industry for the whole year is expected to have improved significantly.
"Currently, non-ferrous metal industry transformation and upgrading of the task is very difficult." Zhao Wuzhuang said, should according to "in a" train of thought, promote the healthy development of industries. First, prepare the non-ferrous metal industry "much starker choices-and graver consequences-in planning", to implement a batch of major projects, and support the industry in the development of science. Second, to carry out the strategy of "area" for the enterprise to provide policy support. Because of the large non-ferrous metal project construction investment, long cycle, in addition to the necessary financial policy support, the major projects of the implementation of key state-owned enterprises, project capital policy support should also be considered. In addition, should support the smooth bankruptcy reorganization of the enterprise. Proposed restructuring fund capacity, to the bankrupt enterprise workers to strengthen the social security, to carry out the training, reduce the pressure of enterprises, promote the bankruptcy restructuring smoothly.
Related posts