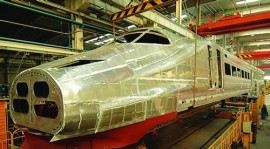 On railway vehicles bodywork aluminum deep processing is to be made from white bodywork modules or cars or even on the road of the vehicle or marshaling, carried out on the car body aluminum deep processing is an important characteristic of aluminum industry in China, Japan, the United States and Germany didn't do it. For vehicle aluminum deep processing has many advantages, such as: can improve the added value of aluminous material, improve the economic benefits of aluminum processing enterprises; Can increase the circulation of the aluminium scrap and improve the quality of waste, reduce the waste transportation cost; Reduce vehicle manufacturing costs; Promote aluminum applications.
Manufacturing passenger rail vehicle not only need to apply DaXingCai, but also with some sheet, foil, pipe, forgings, etc., with some small and medium-sized manufacturing doors and Windows profiles, rack, decoration, storage tank, cart and so on. This kind of material of each car purchase quality is about 2.5 t.
By 2015, China can make aluminum rail vehicle vehicle and/or module of enterprise in addition to the Chinese car co., LTD. Changchun passenger car co., LTD., tangshan vehicles co., LTD., the quartet vehicle co., LTD., co., LTD., pu town zhuzhou electric locomotive vehicle co., LTD., thereof, and a batch of aluminum production enterprise also join this: JiLinMai das aluminum industry co., LTD., the source of refined co., LTD., zhongwang holdings co., LTD., south aluminum processing co., LTD., is ming-tai aluminum industry co., LTD., chinalco – thapa special aluminum (chongqing) co., LTD., etc.
Car co., LTD., in 2015 China aluminum alloy locomotive and vehicle density production capacity can reach 8000 / a, aluminum products processing enterprises of the two products production capacity of 2017 estimated also may achieve the number. As a result, in 2017 the national passenger rail vehicles aluminum production capacity not less than 15000 / a, if all reaches producing (this is not possible) need DaXingCai (press) of computation of 4 t each 60 kt, the China of 90 mn extruder or production capacity of nearly 590.5 kt, almost eight times more demand for vehicles estimated, are fantastic, but there are 52 extrusion of 90 mn or extrusion machines, production capacity of each estimated 10 kt/a is indisputable facts. So to build this kind of large extruder investors wary of the project, but under the condition of market economy, even if has a large surplus of production capacity, as long as the products are indisputable market competitiveness, has a stable sales channels, can make reasonable profits, then you can build.
Related posts