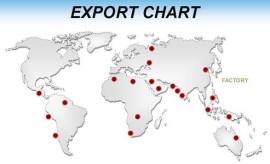 In October, aluminium market differentiation at home and abroad, including LME prices appear three months after stabilization, a strong rebound, while domestic prices fell slightly, rebound fatigue, aluminium "inside" weak very characteristic is obvious. Looking afternoon, aluminium lacks the basis of a strong rebound again, but the underlying positive help limit price downward space.
Aluminium prices presented in October, the characteristics of the "inside" weak very is mainly caused by differences between supply and demand fundamentals. First, the overseas aluminum production and output growth in a departure from China. From the point of the global market, despite the global aluminium output in September 2014 year-on-year growth to accelerate the signs of recovery, but from August fell month-on-month, of which the main reason is that in addition to outside of China overseas aluminium output from a significant pullback.
According to the international aluminium institute (IAI), according to data released in September 2014, in addition to outside China global electrolytic aluminium production rose 1.02% year-on-year, but was dropped 3% in August; China's electrolytic aluminium production rose 9.85% from a year earlier, rose 0.69% in August.
Second, face different aluminium market speculation environment at home and abroad. Overseas markets, such as Goldman sachs, glencore and trafigura lines and large traders speculation is still very active. As of October 24, the LME aluminium cancelled warrants accounted for the proportion of the inventory is still as high as 59.4%, to 2.6484 million tons. This means that the LME warehouse line up more than half a year, investment Banks and large traders continue to reduce inventory flow or pile poured back and forth on the inventory of speculation.
Third, the spot liter discount suggest that the spot market at home and abroad to supply loose. Data show that since September aluminium output and production at home and abroad, the LME aluminum spot once a big increase in supply, the LME aluminium 0-3 spreads narrowed to $32.75 / ton. However, as the large investment Banks and traders continue to absorb excess aluminum spot market by financing transactions, and lead to LME0-3 gap expands, until October 24, expand to 8.5 dollars/ton. As China's electrolytic aluminium production capacity and production, electrolytic aluminium output growth accelerated in August and September. Especially xinjiang aluminium to speed up the delivery, the east China area increase of aluminum ingots the arrival of the goods, so as to make the Shanghai aluminum spot market premium extend all the way. Data show that Shanghai nonferrous a00:1450:8006 aluminum spot market premium on October 24 to – 110 – – 120 yuan/ton.
In the fourth quarter of agglomeration headwinds. First of all, bauxite imports diversification and alternative. Earlier this year in Indonesia banned export of bauxite, domestic bauxite inventory to dip, but after adjustment, imports of bauxite consumption enterprises to quickly find the alternative. Typical bauxite consumption on the one hand, the domestic enterprise also in promoting the development of bauxite other sources, such as Australia, India, Malaysia, South America and Africa, etc; On the other hand, seek to promote domestic bauxite mining and use. China has proved there are 350 million tons of high sulfur bauxite resources, in recent years, China in dealing with hard LvShiXing monohydrate bauxite especially medium grade bauxite was disposed by using the bayer process technology has made obvious progress. Our country development of monohydrate hard LvShiXing medium grade bauxite bayer process efficient production technology is through the integrated development of the integration of advanced technology, part of the enterprise production has reached the "closed" closed steam, realized the economic production, to a certain extent overcome the processing hard LvShiXing monohydrate bauxite in terms of cost.
Secondly, the cost of alumina conduction over, in the fourth quarter of China's alumina prices downward pressure too. Bauxite inventory on the one hand, the Chinese market is relatively abundant (about 35 million tons), enough to support 10-12 month demand, on the other hand as the northwestern and eastern alumina capacity to restart, alumina will be downward pressure on prices.
Finally, the new capacity production of aluminum in the fourth quarter and first quarter of next year supply constitute a helping hand. Statistics show that from the point of new capacity, in 2014 China's new electrolytic aluminium production capacity of 4.6 million tons, in the first half of the production of only 1.6 million tons, and in the second half of the production of 3 million tons. Xinjiang for 5 million tons of annual production capacity is close to 2014, despite the government's planning capacity has been cut to 6.55 million tons, but actual electrolytic aluminium production capacity of xinjiang 2016 May be close to 8.25 million tons.
Related posts