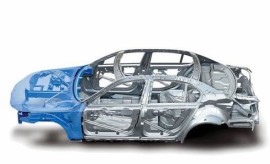 In recent years, the world automobile industry in energy conservation and emissions reduction, improve fuel efficiency, such as pressure, lightweight development trend is more and more. Round to automobile aluminum sheet alternatives to traditional project boom. And for a long time, China cannot sell aluminum alloy car plate. That chinalco southwest aluminum industry to speed up the related technology research and development, to seize market opportunities. The reporter understands from southwest aluminum on August 3, the company has built China's first professional automotive aluminum plate production line, is now capable of producing aluminum alloy car plate sample, the fastest in two years can be formally put into production.
Application of aluminum in the automotive manufacturing history has more than 100 years. Recently, car manufacturing began extensive use of aluminum materials, aluminum industrial giant of developed countries, is an unprecedented large-scale production of aluminum alloy automobile plate technical renovation project. In 2013, the world will be new production capacity of 600000 tons/year.
Southwest aluminum, the leader of technology department said than steel, aluminum alloy material in improving transportation efficiency, re-use, energy conservation and emissions reduction, traffic safety, etc, all have advantage.
According to introducing, the density of aluminum is less than steel, aluminum alloy under the same volume only a third of the weight of steel. According to the measure, car every 100 kg weight, fuel consumption can be reduced about 2%, in addition to the vehicle dynamic performance will also increase.
With the same weight of aluminum alloy and steel, aluminum alloy is a quarter higher than the cost of steel, but due to cyclic utilization rate is far higher than the aluminum steel, thus for manufacturing enterprises, the application of aluminum alloy long-term comprehensive cost is still lower than steel.
Some people believe that the strength of the aluminum is less than steel, so worry with aluminum plate will be safe hidden trouble. Southwest aluminum, the leader of technology department said it was misunderstanding, according to the professional test, aluminum alloy in a car crash, safety coefficient is higher, because the material has very good energy absorption effect. In addition, in some applications such as aluminum alloy, the hood that can reduce the secondary to a personal injury.
"At present there are a few mature domestic market models, are to varying degrees in areas such as the engine cover, car door adopt the aluminum alloy material, such as audi, buick, roewe brands such as some models. A few months ago has just released a southeast city walking vehicle WoPei, the aluminum alloy is made by the southwest aluminum doors and other parts." Southwest aluminum, deputy general manager Chen Lin is introduced, with the domestic regulations in succession, such as energy saving and emission reduction pressure is growing manufacturer for a car's weight loss, and the steel weight loss technology has reached the limit, it brought opportunities for development of aluminum alloy materials.
2011 global automotive aluminum alloy panels demand of about 250000 tons, at present, only the United States, Germany, Japan, France and other foreign enterprises can production, domestic related parts depends on imports. Chen Lin emphasized that chongqing is a large domestic car manufacturing base, to develop the aluminum sheets at home, we will further improve the matching, auto industrial upgrading and structural adjustment will play an important role.
Demand in the international market, the largest range of high-end aluminum aerospace aluminum plate, aluminum car body, PS/CTP aluminum base, coil of tank, the former two kinds of aluminum plate for organization, the performance of the material and the surface precision of the most demanding, the production difficulty. At present, southwest aluminum has achieved important breakthrough in the field of aerospace materials, in addition to "shenzhou" spacecraft, "long march" series provides a series of varieties of high quality aluminum alloy material, also recently won the Boeing and airbus carriers such as supplier certification.
Today, southwest aluminum in the automotive aluminum smelting, heat treatment, etc., and obtain a series of new research results, which provide car aluminum samples, in strength, plasticity, corrosion resistance and so on various aspects have reached the standard level. Southwest aluminum is to perfect the related production line configuration to realize formally put into production on schedule.
Related posts