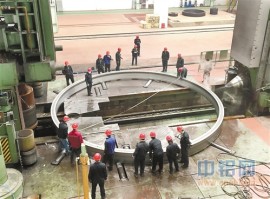 By southwest aluminum cooperation with tianjin special steel forging co., LTD. Research and development, the first new type of rocket by the level of 9 meters large aluminum alloy ring in recently successfully developed as a whole. This is by far the world maximum level of aluminum alloy ring as a whole.
"Developed the whole grade 9 meters large aluminum alloy ring, is southwest aluminium in the field of aerospace materials and a breakthrough." Southwest aluminum head said, as the national air and space undertakings development, put forward higher demand to high performance large ring. In 2012, bear the shenzhou spacecraft, the long march rockets and other aerospace equipment manufacturing research and development of China aerospace science and technology group, put forward the localization level 9 meters large aluminum alloy ring manufacturing needs.
Said to super large ring is casting and welding pieces of traditional manufacturing method is given priority to, but these two kinds of process are unable to meet the bear overload, high impact, such as ultra-low temperature performance requirements needed for the bad working condition, must adopt new whole manufacturing process, and research and development of this technology in the domestic belong to blank. To meet the demand of national space development, occupy the industry commanding heights, chinalco, 2014, the company was established in southwest aluminum ring technology research and development team, officially launched research and development research.
Team members JueJi introduction, meet the requirements of the whole ring for ingot casting billet, is a research and development team must face the "crack". In just three months time, the r&d team, relying on independent innovation, developed the casting tool, for key casting technology and casting process, to overcome the large ingot casting molding, casting a diameter of 1350 mm round ingot that could satisfy the requirement of technical standards, developed for later lay the foundation. After half year, southwest aluminum broke through forging has been using these two key technologies, and rolling forming successfully rolling out size completely meet the design requirements of aluminium alloy integral ring, its precision technology design desired completely.
, deputy general manager of southwest aluminum Li Yong said the large aluminum alloy, integral ring developed for aerospace enterprise continued development in our country brings profound influence.
Related posts