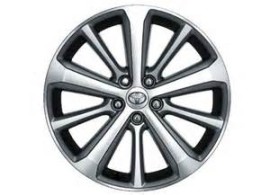 1, fuel-efficient
Even each aluminum alloy wheel hub 2 kg lighter than the same dimension of the steel wheel, a car with five province great 10 kg weight. According to Japan's experiment, five cars weight reduce 1 kg each, about a year or save 20 l petrol. And American cars institute announced research report pointed out that aluminum alloy wheel hub although more expensive than usually steel wheels, but runs to 20000 km per car, the saving fuel cost and foot Qin back to the capital.
Full, add 2 engine
According to engine load and power curve, when the load increases to a certain degree, after a decline in its power, the marginal will show this moment every 1 unit load, the engine will be more difficult (especially fuel), reduce the engine load, natural reduce fault, extending life spans.
3, good heat dissipation
Heat transfer coefficient of the aluminium alloy steel three times. Good heat dissipation effect, remote high speed, also can keep the tyre at the right temperature, the brake drum and wheel is not easy to aging, add become old, yea, the timing of the flat tire.
4, good roundness
Precision up to 0.05 mm, work balance function, is conducive to eliminate body usually very long and the steering wheel vibrate.
5, strong and durable
Aluminum alloy wheel hub of the resistance to impact, tension and thermal resistance strength of the steel wheel is higher. This is aluminum alloy in the defense industry, aviation industry plays a important part of the reason.
6, beautiful
Steel wheel due to the limited production, usually form drab and dull, lack of change; Aluminum alloy wheel hub has detailed planning, coupled with good gloss, color effect, and then improve the value of the car and the aesthetic feeling.
Related posts