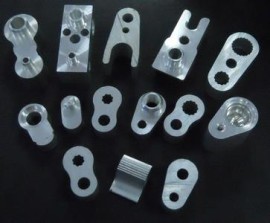 Over the past 20 years, world energy problem is becoming more and more serious, which reduce automobile weight, reduce fuel consumption has become each big automobile manufacturer the key to improve the competitive ability. According to relevant data, vehicle weight reduction of 50 kg, per liter fuel driving distance can increase 2 km; Car every reduce 1% weight, fuel consumption by 0.6% ~ 1%. Aluminum has many characteristics, such as small density, good corrosion resistance, and aluminum alloy plasticity is good, casting, forging, stamping process are applicable, the most suitable for automobile spare parts manufacturing of die casting process. From the cost of production, parts quality and material utilization from several aspects such as comparison, aluminum alloy has become an important and indispensable material in automobile production. At present, the United States, Japan, Germany is a country with the largest automotive aluminum alloy, such as Germany's Volkswagen AudiA8, A2, Japan NXS etc with aluminum alloy car body volume of 80%. Cars in China in addition to Shanghai santana, faw audi and jetta (both for the introduction of production line) with aluminium alloy, the domestic to the red flag is more, about 80 ~ 100 kg [2]. Have data show that using aluminum alloy structure instead of traditional steel structure, can make the quality to reduce 30% ~ 40%, and make the engine can reduce 30%, manufacturing wheels can reduce 50%. Aluminum alloy is car lightweight and environmental protection, energy saving, speed and one of the important ways to efficiently transport. Therefore, the development of aluminium alloy car appear very necessary at present.
1 aluminum alloy applications in automotive industry background
On the application of aluminum to the earliest car is Indian, according to the record, 1896 indians take the lead in the use of aluminum in the automobile crankcase. Early in the 20th century, aluminum manufacturing luxury cars and car has a certain application, aluminum body of the car began to appear, such as Henry Ford Model T cars and 20 or 30 s speedway in Europe 360 ferrari racing all aluminum body.
Auto cast aluminum alloy and aluminum alloy can be divided into deformation aluminium alloy. Casting aluminum alloy in car usage, most accounted for more than 80%, which is divided into gravity casting, low pressure casting pieces, and other special casting parts. Deformation aluminium alloy including sheet, foil, extrusion, forging, etc. The world of industrial aluminum alloy material varieties, although there are differences of but is roughly the same. About 80% of its breed: casting, forging accounted for 1% ~ 3%, and the rest of the materials for processing. Deformation of aluminum alloy in the U.S. auto industry accounts for larger proportion, up to 36%.
1.1 the application of casting aluminum alloy
Casting of aluminium alloy has excellent casting performance. Parts can be used according to the purpose, shape, size precision, quantity, quality standard, the mechanical properties and so on various aspects of requirement and economic benefit of choosing the best suitable alloy and casting method. Casting of aluminium alloy is mainly used for casting engine cylinder block, clutch shell, the rear axle shell, steering gear, transmission, distribution agencies, oil pump, water pump, rocker arm cover and wheels, the engine frame, brake caliper, oil cylinder and the engine components such as brake disc.
1.1.1 engine with aluminum alloy
Automobile engine made lightweight aluminum alloy is most obvious, with average weight loss of more than 30%, in addition, the engine cylinder block and ____________________
Gansu province natural science fund project (3 zs041 – A25-031)
Cylinder head requirements of thermal conductivity of materials performance is good, strong corrosion resistance, and aluminum alloy has a very prominent advantage in these aspects, so the car manufacturers to engine research and development of aluminum. At present many foreign car companies have adopted the whole aluminum engine cylinder block and cylinder head. Such as general motors has adopted the whole aluminum cylinder liner; French car firms aluminum cylinder liner has reached 100%, 45% aluminum cylinder block; Japan's nissan VQ and Toyota's lexus IMZ – FEV6 adopt aluminum engine oil pan; Chrysler's new V6 engine cylinder block and cylinder head are used aluminum alloy material [3].
1.1.2 with aluminum alloy hub
Aluminum wheel hub because of light weight, good heat dissipation, and has a good appearance, and gradually replaced the steel wheel. In the past 10 years, the global aluminum alloy automobile wheel hub with a 7.6% annual rate of growth, according to the analysis, by 2010, automobile wheel hub aluminized rate can reach 72% ~ 78% [4]. A365 is a kind of casting aluminum alloy, it has a good casting performance but also has high comprehensive mechanical properties, casting aluminum alloy wheel hub of the whole world is this kind of alloy production. Our country southwest aluminum processing plant light metal plant type will cooperation with Japan developed A6061 aluminum alloy wheel hub [5].
The application of 1.2 deformation aluminium alloy
Deformation of aluminium alloy is mainly used for manufacturing in the car door, trunk body panels, such as bumper, engine cover, the wheel spokes, wheel cap, round outside act the role of the shielding cover, brake assembly, silencing cover, anti-lock braking system, heat exchanger, body frame, seat and trunk base plate structure and decoration, such as the dashboard.
1.2.1 car panels with aluminum alloy
Plate on the car application proportion rising, such as the heat treatment (such as T4, T6, T8) of 6000 – Mg – Si (AI) aluminum alloy plate, can well meet the demand for housing, can be used as body framework material. The Audi A8 body sheet metal parts, that is, adopted the department alloy aluminum. In addition, the 2000 series – Cu – Mg (AI), 5000 – Mg (AI) and 7000 – Mg – zinc – Cu (AI) aluminum alloy material can also be applied to the body. In recent years, the 6000 series and 6000 series of high strength aluminum alloy has developed a "mouth", "day", "eye", "field" in the shape of a thin plate and hollow profiles, not only light weight, high strength, crack resistance performance is good, and good formability, has been widely used in the car [6].
1.2.2 other aluminum alloy structure
Other parts of the aluminum alloy has been widely used in automobiles, such as: general motors in 7021 aluminum manufacturing Smure car bumper enhanced support, ford motor company in 7021 aluminum manufacturing Lincoln Town car bumper bracket [7]. Auto suspension parts and the application of aluminum alloy material, effectively reduce the quality of the corresponding parts, improve the ride comfort and stability of the car, if use 6061 forgings production of disc brake jaw, such as power transmission frame. In addition, aluminum alloy is widely used in automotive air conditioning system, such as Japan the use of 6595 aluminum alloy in automotive radiator and radiator fridge.
2 the application of new type of aluminum alloy in automotive
2.1 rapid solidification of aluminium alloy
Under the condition of rapid solidification (104 ~ 109 ℃ / S cold velocity), the material will cause some new characteristics: on the organizational structure of ultrafine microstructure; To improve the solid solubility limit of the alloy, The height of the component even, segregation or less without segregation; Equal to form new metastable. Based on these characteristics, rapid solidification of aluminium alloy is bound to be applied in the automotive industry. Sumitomo electric company using rapid solidification PM AI – Si – X high silicon aluminum alloy instead of sintered steel, high-volume manufacturing automotive air conditioning compressor rotor and blade, make the rotor weight 60%, whole compressor 40% reduction in weight; Yamaha motor manufacturing company in the production of rapid solidification high silicon aluminium alloy piston is put into market, this kind of piston compared with ordinary cast iron, a 20% reduction in weight, life expectancy increased by 30%, and significantly reduce the noise, reduce pollution [8]; Mazda motor company using spray deposited AI – Si – Fe – Cu – Mg alloy created a new kind of engine rotor, improve the efficiency of the engine, can fuel efficiency by 20%.
2.2 aluminum matrix composites
With ceramic fiber, whisker, particles as the reinforcing material, production of aluminum matrix composites, its than strength, elastic modulus, heat resistance, abrasion resistance, such as increased significantly, can be used as engine parts, such as developed by powder metallurgy method AI2O3 or SiC particles (whisker) enhanced AI – Si alloy pistons, while keeping the advantages of al – Si alloy pistons at the same time, to further improve the strength of the piston, abrasion resistance, heat resistance and fatigue resistance, used in car engines; In addition, the particles reinforced aluminum matrix composites can also be used in the manufacture of vehicle engine cylinder block, piston and connecting rod and other components.
2.3 the foam aluminum alloy
The foam aluminum alloy is a metal substrate has countless bubble distribution in the porous material, the quality of this material is lighter, stronger than higher, and have high energy absorption characteristics, high damping characteristics and vibration absorbing properties. The aluminum foam filled between two high strength plate made of sandwich panel, when used in the roof cover plate, can improve the rigidity, lightweight and improving the thermal insulation performance, to use on the bumper, longitudinal beam, and a pillar parts, can increase the impact energy absorption ability, at the same time of lightweight, improved the security impact.
3 the development prospects of aluminum alloy in the car
In lightweight metal is smaller than aluminum alloy, magnesium alloy density but magnesium ingot cost is higher, there are many technical barriers and parts manufacturing process, such as lack of casting high temperature alloy and design data, poor surface treatment technology, combined with the low level, so the usage is quite limited in the car; And aerospace with titanium alloy is a high mechanical strength, but manufacturing difficulty and manufacturing cost is expensive, lead to can't large quantities of titanium alloy used in car production. Aluminum alloy in cost, manufacturing technology, mechanical properties, the sustainable development (the earth's crust chinalco's most abundant, 8.1%) and so on comprehensive performance is good, so the aluminium alloy is now and the preferred light metal material in the automotive industry in the future.
At present, China's auto production after the United States, Japan, Germany, the fourth in the world. In automotive aluminized rate, our country's technology also is relatively backward. Current car in the developed countries use the aluminum has amounted to 138 kg, aluminized rate was 12%, and the car using the aluminum with foreign gap is very big, the average amount of aluminum is only 60 kg, aluminized rate less than 5% [9]. Therefore, China automotive aluminum alloy market development prospects are very broad.
Related posts