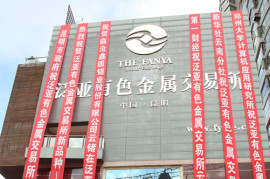 Although commodity spot trading market development in our country since accompanied with location problem, the market also didn't stop the controversy and discussion, regulators also made several rectification action. But there is no denying the fact that the regular domestic relevant exchanges rapid rise, also for enterprise development has brought about many benefits in the industry.
Under the participation of pan-asian non-ferrous metals exchange, yunnan rare color metals industry after more than three years of development, gradually has the pricing power, a lot of enterprises benefit from it. "Our company metal germanium products accounted for half of the nation's production, cloud will take half of the germanium to germanium pan-asian exchange to sell." Yunnan germanium industry BaoWenDong chairman said. In the same way, the general manager of the yunnan day hao hao-ran sun also said: "our company got a rapid development in recent years, we are learn from yunnan germanium industry, we are also listed in the job, after offering investment project is also do processing of indium. Hope to work with pan-asian non-ferrous metals exchange, make the value of the rare metal effectively, from radish price to sell into the price of gold."
As entities injected money into the economy
Exchange is the accumulation of information, capital, logistics platform, the innovation of the traditional trade under the mode of Internet financial trading patterns, can be a large number of private capital into industries, for small and medium-sized enterprise financing, transformation and upgrading of industry, industry consolidation. Can effectively reduce the cost of sales entity enterprise operating, financing costs, and to explore a more reasonable in price international pricing mechanism. Platform for the development of enterprises, the industrial structure adjustment and the development of industrial economy will bring other businesses can bring huge energy.
China is the world's main reserves of rare metal resources, exporter, yunnan is rare metal resources in China, the resource advantage is very outstanding, but because of the industrial concentration is not high, mainly downstream consumption is Japan, South Korea, the United States and other developed countries, foreign enterprises to adopt entrust a specialized procurement for the company's centralized purchasing, for abortion to domestic enterprises and domestic enterprises in the multinational companies and downstream monopoly trade talks, no voice, in the absence of other sales way was forced to lower prices to sale the rare resources into overseas. Pan-asian exchange after the establishment, effectively solve the practical problems, open up the investment demand of rare metals, for small and medium-sized enterprises financing channels at the same time, sales and manufacturing enterprise can realize the goods money collecting and financing. Exchange by improving the industry concentration at the same time, improve the international bargaining power.
The mission of pan-asian non-ferrous metal exchange use unique rare metal resources in China, through the use of advanced e-commerce model to transform traditional industries, promote the rare metal industrial value, form a rare metal international pricing center. After more than three years of efforts, the pan-asian non-ferrous metal exchange to mobilize a large number of private capital into the real economy, provides the real economy with large amounts of money, to help China rare metal industry increasing industry concentration, promote the integration industry, industrial upgrading.
The chairman BaoWenDong think yunnan germanium and platform will promote the rare metal industry healthy and orderly development, and make yunnan small metal to a big brand. Cloud transform and upgrade germanium doing, he says, is actually doing the downstream processing.
To this, hao, general manager of yunnan day hao-ran sun. , he said, 2011 years ago, metal indium oversupply, and a lot of is a little messy situation, a lot of it is to belong to smuggling to go abroad, the domestic tax, GDP all lost. "Pan-asian since the establishment of yunnan is the earliest day hao, this three years we have witnessed the growth of pan-asian, we also great changes have taken place in the enterprise itself. Three years ago, our company is a year of indium capacity 10 tons, in the country is not on the number of row. Three years later, an annual production capacity of more than 200 tons, we accounted for half of the country. Truly, truly, this is a pan-asian mode give us money and activity into the real economy." Hao-ran sun said that the company is listed in the job, after the project is to do processing of indium. He believes that with the improvement of the industrial chain, and their value of rare metal will be an effective regression.
Customer funds in yunnan province
Rare metals as an important strategic metal because not only has the basic characteristics of metal products, and gives the financial attributes by the market, at the same time, rare metal good natural attribute, value function, is also more and more investment institutions and individual attention, as an alternative to important investments, investment, investment tools. A large number of private capital through the pan-asian non-ferrous metal exchange platform industry back feeding, provide the support for the industrial upgrading and structural adjustment, forming a resource protection and development, win-win business purchases, entity enterprises and investors, a virtuous cycle of industrial upgrading.
For yunnan, customers around the capital are to gather in yunnan province.
At present, the pan-asian across the country has 465 authorized services (including the preparatory period), in yunnan province has more than 40 authorized service agencies.
In order to make the surrounding platform business to produce relevant tax can stay local, serving local development, requiring a pan-asian exchange platform for trade in goods of enterprises shall be in the local branches of independent accounting, further broaden the local tax sources, serving local social and economic development.
At the same time, in terms of fund gathering, to contribute to the yunnan local, exchange requirements, customers all over the country, such as participate in the transactions of the platform and related activities, all needs to delimit exchange their special capital account opened in kunming, the clients' money across the country gathered in kunming. At present, a pan-asian exchange of yunnan introducing private capital effectively promote the economic and financial sector development and prosperity of the local industry, at the same time, the speed of import capital still remain stable growth.
Pan-asian exchange trading for more than three years, the international and domestic brand influence is more and more big, the global important rare metal enterprises, ten several provincial development and reform commission (NDRC), China financial services office, the letter of leadership in a wide range of industries with the exchange to exchange business negotiations, or to visit, exchange, study, learn, effectively enhance the brand effect of yunnan. All authorized service agencies before cooperation, carries on the comprehensive investigation to kunming, also helps more investors from all over the country understanding kunming, kunming, promote its investment in kunming, seek development.
Transition to consolidate industry status
For this more than three years of the development, the ministry of land and resources rui-jun li economic research institute, said Dr Pan-asian non-ferrous metal exchange made our country want to do for so many years didn't do – business reserves.
Rui-jun li said: "the country has a national reserve, but the national finance is limited money, strategic metals not reserve as much as they want to reserve, also can only be done according to the minimum standard. But the pan-asian non-ferrous metal exchange happened to be gathered in society all the resources to do the strategic reserve, if one day we industry grows, the country, the industry needs a lot of strategic small metal, the pan-asian non-ferrous metal exchange has become our country 'second logistics department, I think this is the most meaningful. Pan-asian non-ferrous metal exchange virtually the country for so many years I've always wanted to do business encouragement reserves do."
China nonferrous metals industry association, vice President of Wang Qinhua also have her appreciation of the pan-asian, she thinks, pan-asian non-ferrous metal exchange opened three years, actively explore innovation, the current exchange indium bismuth germanium and other strategic metals have important influence on global market prices, in the rare metal industry on the international stage of increasingly powerful China sounds, for China's rare metal industry development has made important contributions.
Wang Qinhua said that although the non-ferrous industry development is facing the situation of domestic and foreign environment is not optimistic, but at the same time due to the development of new industrialization, the urbanization in China, especially the development of strategic emerging industries, the demand for non-ferrous metal materials is very broad, especially for the growth of rare metals demand is rigid, so should have confidence in the development of the industry. Is currently an important period of transformation and upgrading of rare metal is helpful to find supply prices and improve the allocation of resources, so as to express the scarcity of resources and strategic position; Is beneficial to form a more transparent price forming mechanism and provide more effective measures to avoid risks, provide important guarantee for smooth development for rare metals industry.
"China's rare metals in terms of production, consumption, import and export trade, occupies an important position, however, China's influence on international rare metal, did you get the reasonable interests of the international industrial division of labor. A new type of booming development, strategic industries we increasingly prominent position, small metal, big as, hopes to to rare metals industry market in the allocation of resources play a decisive for the principle, improve the market participation and value credibility ascension rare metal pricing to influence international prices, rising international voice of rare metal industry in China."
For yunnan characteristic industrial enlightenment
And precious metals industry development situation is different, in contrast, also has the characteristics of yunnan tea and coffee, then there is no such luck, there has been nothing professional trading platform, due to the uncontrolled ascent collapse is inevitable.
Since 2007, the price of puerh tea frequency on a roller coaster, in some puer tea investor's wealth at the same time, the wind known another group of people are corresponding bear the pain of the slump, pu 'er tea has become a speculative capital goods. Malicious hype tend to just let the tea farmers were injured, the yunnan puer tea culture also have great damage.
Coffee is the same. Yunnan coffee from planting area to production, almost 99% of China's share. Although this year on July 9, pu 'er was founded announced "yunnan coffee trading center"; On July 12, "kunming coffee trading center" also was proclaimed, and ambitious to become the world's third largest after New York, London, coffee exchange. But until now, kunming coffee trading center of the license is not available, this means that the not reasonable and lawful to spot trading business.
In recent years, with the increase of yunnan coffee production and market development at home and abroad, development of yunnan coffee is good. Development from more than 30 ten thousand mu in 2008 to the present more than 160, ten thousand mu, growing acreage of yunnan coffee, coffee production this year is expected to exceed 120000 tons, 40000 tons more than last year.
Yunnan coffee industry association deputy secretary-general hu lu said that coffee consumption in the domestic market this year has reached more than 200000 tons, China's coffee consumption at an annual rate of more than 20% in continues to rapidly increase, the higher than the global average coffee consumption growth levels by about 10 times, become the largest country in the world coffee consumption potential, brought a good opportunity for the development of yunnan coffee.
Can say, for the major coffee producing areas in yunnan, set up spot trading center is imminent. Hu road, there is currently no more than one hundred tons of yunnan coffee trading places, millions of coffee farmers and coffee industry in the early stages of raw material buying and selling. Because there is no spot trading platform, the coffee industry in yunnan province and no voice in the world, coffee beans coffee purchase prices generally lower than the same level.
But this time, from the Shanghai free trade actively build coffee exchange messages. "If Italy warehouse operators pacorini free trade zone in Shanghai set up Asia's first coffee exchange, then yunnan as coffee producers can only do the farmers do forever, can only stay in the land of coffee raw materials business in yunnan, yunnan there is still no pricing power and voice." Hu lu of yunnan coffee industry's future and Shanghai will be the preparation of coffee exchange can not help some dim.
Yunnan coffee industry association secretary general Li Gongqin said, Colombian coffee prices twice at least little grain of coffee in yunnan, the high-quality goods, because they do have their own standards, China will suffer without trading center, unable to set their own standards. He admitted that in order to get a notion of yunnan coffee, pricing power, establishing trading center is undoubtedly the best way.
International voice
There is no doubt that the establishment of pan-asian non-ferrous metal exchange of rare metals in our country has pricing power, voice played an important role.
Pan-asia non-ferrous metal exchange is 2011 2 menstrual investment promotion and capital introduction into the development of yunnan. Officially opened on April 21, 2011, exchange trading. After only three and a half years of development, the current exchange dealers across the country more than 170000, total customer assets under management of more than 43 billion yuan, total turnover of 305 billion yuan, commodity trade volume of nearly 400000 tons. Is a month 10000 new customers, new customer asset management speed development of the scale of $20.
After more than three years of development, the exchange of indium, germanium, gallium, bismuth, tungsten and other strategic metals has made certain international voice, pan-asian has lead the global prices, price on the international stage of rare metal, more and more powerful China sounds.
Indium, for example, 2007-2011, China has more than 200 tons of indium smuggled into Japan, double-digit smuggling amount each year. On April 21, 2011, listed pan-asian indium varieties, domestic indium gradually reduce the amount of smuggling, smuggling in 2012 dropped to 5 tons of smuggled reduced to 2.5 tons in 2013. More importantly, from a major exporter of indium in China in 2013 into a net importer of net imports reached 105.3 tons, the pan-asian exchange for three years continuously enter the new money for indium industry, supporting industrial upgrading. More than 90% of indium in the world are currently pan-asian platforms to clinch a deal, exchange indium inventories now more than 3465 tons, more than 8 years of production in China, close to the global production of six years. Therefore, to have a great voice in global indium industry.
China minmetals chemicals import and export chamber of commerce, said Mr Chen pan-asian model gives us the confidence of the reform and innovation, to see for a important strategic resources such as rare earth products, through the pricing of commercial collection and storage, exchange, complementary with standard financial and administrative measures, can form a set of more scientific and effective than the quota and tariff constraints and pricing system.
Yunnan germanium chairman BaoWenDong is real profit entrepreneurs through the trading platform. Yunnan, he says, is the largest non-ferrous metal, there are a large number of rare metal, didn't set up before the pan-asian exchange resources more scattered. After pan-asian exchange, rare metal resources together and guide the rare metal industry out of a new road. Through the pan-asian non-ferrous metal exchange interaction platform and rare metals enterprises, slowly make rare metals all products returned to its proper value. Through this platform have a right to be heard.
Related posts