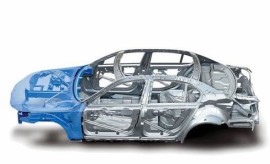 According to guangxi daily news recently, nanning source are all aluminum body held the opening ceremony of new energy automobile production base project, the project covers an area of 2000 mu, is located in nanning nanning ning district emerging industrial park, planning a total investment of 4.8 billion yuan. After the completion of the project, to achieve an annual output value of 2.2 billion yuan, is national the first largest scale in the aluminium body of new energy vehicles on the basis of project.
Before December 31, the nanning new energy source are all aluminum body car rolled off the production line.
It is understood that the project investment plan stage. First phase of the project plans to invest 1.5 billion yuan, the land of 530 mu, 2015, 2018 completed reaches producing, main construction whole aluminum body for the development of new energy bus vehicle and parts, production and sales, testing and services for the integration of new energy automobile production base, to develop natural gas LNG city bus and conventional bus development and production. Estimated annual full aluminium body new energy bus, regular bus 5000 vehicles and pure electric functional special vehicles 10000 vehicles, annual output value 2.2 billion yuan.
Related posts