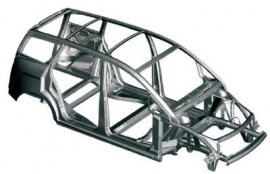 Due to the increasingly strict environmental protection and energy saving, at present, the auto lightweight has become the world's auto industry development trends and hot spots.
A BMW Japanese technology center director Marc Hofmann, BMWi series models by using carbon fiber reinforced resin matrix composites (CFRP) and aluminum alloy/non-ferrous business: aluminum alloy density, significantly reduce the vehicle weight. General in 1400 kg, the weight of the engine model and i3 equipped with motor and battery increased by 200 kg. BMW by using CFRP in car, on the chassis parts adopt aluminum alloy structure, which will reduce the weight of the car, 340 kg, 1260 kg.
On the production side, usually car assembly line is to use the welding way of bonding steel plate stamping forming, and i3 is about 150 parts of RTM process joint assembly skeleton, RTM process cycle of about 10 minutes, 1 minutes to shape. Therefore, CFRP skeleton fully assembled not using welding, assembly line there will be no welding process. About 150 parts sounds a lot, but compared with the use of steel manufacturing framework, population has lost about two-thirds.
In general, car body, chassis both account for more than 60% of the entire car weight. According to research, theoretically aluminum automotive than steel weight of 30% – 30%, among them 30% aluminum engine can lose weight, aluminum radiator is 20% – 20% lighter than copper, the aluminum than the steel car body weight loss of more than 40%, automobile aluminum wheel hub can lose weight by 30%. As a result, the aluminum alloy material is one of the most ideal material car lightweight. In addition, the United States put forward the aluminum association, if reduce 25% weight of the car, it can make the car speed up to 100 km/h time reduced from 10 seconds to 6 seconds. And reduce the vehicle weight can effectively reduce the braking distance, makes the process of steering and cornering and more flexible.
It is understood that the representative of the tesla model ModelS adopts the whole aluminum body, the aluminum alloy car body accounted for 17%; 2015 ford F – 150 pickup best-selling will also take a whole aluminum body, the aluminum alloy usage will account for 25% of the mass of the vehicle. Other aluminum rolled products giant Nobel lish significant expansion (NovelisInc.) is a global automotive aluminum non-ferrous opportunities: aluminum plating capacity. Is expected to 2015 north American production of 17 million units in the passenger car, there are more than 500000 pickups and electric cars will use full aluminium body, by 2025, more than 70% of the pickup will adopt aluminum body. Car body aluminum plate for processing, precision, etc have a variety of extremely strict quality requirements, the only global aluminum processing industry top a few manufacturers can produce.
In the next ten years, all the major auto parts with aluminum permeability will be improved obviously. Permeability of the aluminum alloy hood is expected to rose from 48% in 2015 to 85% in 2025, the aluminum door permeability rose from 6% in 2015 to 46% in 2025, this would be easiest to penetrate two aluminum automotive parts. In addition, trunk, bumper, etc on the roof, aluminum permeability will be increased significantly.
According to statistics, in 2013 produced 22 million cars in China, the world's first, on average every car for aluminum volume about 15% lower than the developed countries. In the global passenger car aluminized rate increase, under the trend of the trend spread from North America to China is an inevitable process.
Related posts