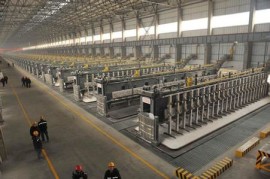 Melbourne February 12 – the United States launched legal action against Chinese export subsidies industry, including aluminum products is one of the goals, it sparked again worry that China may cut aluminum products export tax rebates. The tax measures to boost exports and relieve the shortage situation in Asia.
On February 11, the transformation and upgrading of China's foreign trade demonstration base and public service platform subsidies filed the request for consultations, under the wto dispute settlement mechanism that China through the demonstration base of transformation and upgrading of foreign trade and the public service platform to provide export subsidies prohibited by wto rules.
The United States alleges that China's subsidies range of advanced materials industry and special steel, titanium and aluminum metal products.
"Base metals industry in China is still very active today, thanks to the write-off, government subsidies, electricity, low-interest loans, etc.," is located in Beijing's aluminum advisory agency AZ China general manager Paul Adkins said.
Adkins said, although any policy action may have to spend several years to complete, but aluminum products are exported to become one of the goals of the charges, or to increase China's policy makers to cancel the pressure of the semi-finished products export VAT rebate.
Measures "the government of the VAT rebate to make some adjustment, this is not what is can't imagine… this is on the agenda (policymakers), because they have to think a way to support its industry." Adkins said. Cancel the refund, he said, will run out of area of aluminum, which support the premium.
Related posts