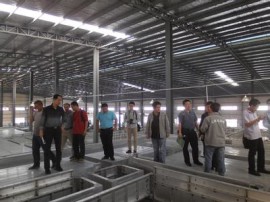 , according to Hong Kong on December 3, traders and refinery management said, tight credit and the domestic price of the metal material will be weak, may limit the Chinese aluminum smelter import of 2015 alumina long list.
China's basic can meet the needs of the current aluminum production, refiners usually through long for existing and new capacity for raw material guarantee. Traders said the first 10 months of 2014, long single imports account for about two-thirds of China's imports of 4.2 million tons of alumina.
Banks has cut this year for steel and aluminum industries, to solve the excess capacity for Beijing to take a tougher stance.
"Refiners cannot sign a long list, afraid can't get the l/c," a medium-sized refinery, said an official because has not been authorized to speak to the media, the executives declined to be named.
The executives and analysts Wang Chunhui said that those who are able to obtain the refinery of l/c is unlikely to increase imports, because of supply growth more than demand, and worry about domestic prices weak.
Wang Chunhui, said at the end of 2014, 34 million tons of estimation, on the basis of capacity, estimated that in 2015 China will add 2015 tons of production capacity.
The refinery management staff, said China's domestic prices, while the weak, but the London metal exchange (LME) aluminum futures prices is unlikely to drop, because for some international manufacturers, the price is close to the level of production cost.
LME aluminum futures prices have risen more than 10% this year, the price is used to determine some imports of Chinese alumina long list price.
At the same time, sales of alumina line of trade are also seeking to obtain higher profit margins.
Traders and smelters, management personnel said Australian sellers to Chinese buyers pay 2015 alumina long single price, for the LME aluminium prices at least 18% (FOB), higher than some buyers pay 17.8% last year.
Some Chinese alumina industry in 2015 contract offer, as the Shanghai futures exchange of aluminum futures price 18%, up from 17.5% this year.
Most Chinese alumina importers are still in negotiations with the seller, and after the evaluation of Indonesia banned exports of aluminium, bauxite falling inventories influence on China's alumina production.
A state-owned aluminium smelter, said an official at the end of an estimated 34 million tons of bauxite inventory, to support China's 2015 alumina production stabilized. Product Inc said last month that China or will face a shortage of bauxite.
Related posts