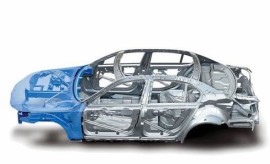 Toyota will increase from 2017 in the automobile body aluminum consumption. Toyota will be centered on high-end cars, the engine hood, bumper and the doors into aluminum materials in areas such as the replacement. Body weight is expected to reduce 0.1 tons at most. Toyota also plans to reduce gasoline usage by lightweight, improve fuel efficiency. American car manufacturers such as ford motor in advance also use aluminum, steel as the main raw material of automobile manufacturing traditional may change.
Combined with high-grade car "lexus" launch of new models, Toyota will be taking the hood, bumpers, door and the replacement of the fender parts of the material into aluminum. Toyota decided to first paragraph from lexus luxury "LS" and "GS" began to replace aluminum in turn.
Now for lexus and Toyota hybrid (HV) "prius" part of the models, use aluminum manufacturing bumper etc. Toyota considering Ms. Tahara factory production base, such as the introduction of aluminum dedicated assembly line, plans to invest billions of yen.
It is said that the body weight of 1-1.5 tons of gasoline vehicles weight under the condition of 0.1 tons, can run about 1 km per litre. 2-2.4 – ton lexus LS, GS weighs 1.6-1.9 tons, so more per liter can run 500-700 m.
Aluminum is about three times higher than iron. But Toyota will through large-scale procurement to control production costs, curb aluminum prices.
Related posts